CLAT Important Topics 2022 - Subject Wise Topics, Types of Questions
CLAT Important Topics 2022 - Candidates appearing for CLAT 2022 or CLAT 2023 should be well versed with the syllabus of the examination. They should be able to identify the important topics of CLAT 2022 that are frequently asked in the examination. Giving extra time and effort to the CLAT important topics 2022 can give them an edge over other candidates as they will be prepared well. The CLAT syllabus, which is the vastest syllabus when it comes to law entrance exams, has five sections - English, general knowledge and current affairs, Maths, legal and logical reasoning. However, having a topic-wise syllabus for CLAT 2022 would make the preparation easy and more exam-oriented. Read the complete article to know about CLAT important topics, including the section-wise distribution of subjects.
Stay up-to date with CLAT News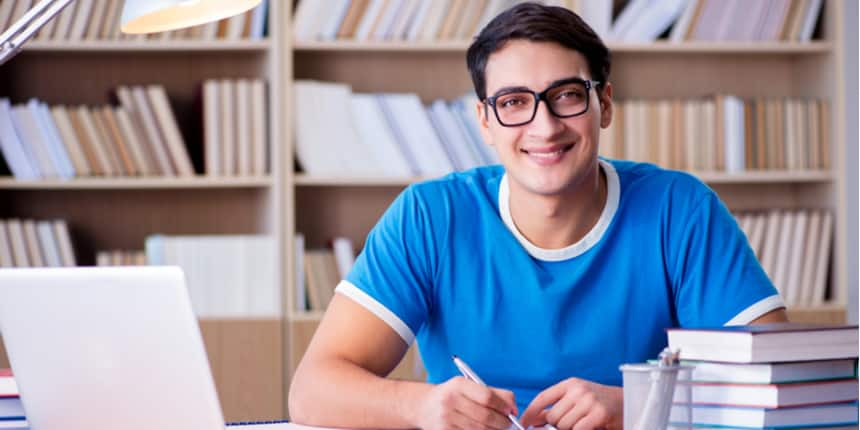 CLAT 2022 Syllabus - Section-Wise Distribution of Questions
To prepare for CLAT 2022, candidates should first check the complete syllabus and CLAT pattern for the examination. CLAT will have 150 objective type questions that will be asked from comprehension passages. Each section, including current affairs and maths, will have questions from comprehension passages and data sets. The section-wise distribution of questions and marks are given below.
5 min read
Mar 05, 2022
Read More
| | | |
| --- | --- | --- |
| Subject/topics | Number of questions | Percentage weightage |
| English Language | 28-32 questions | 20% |
| Current Affairs, including General Knowledge | 35-39 questions | 25% |
| Legal Reasoning | 35-39 questions | 25% |
| Logical Reasoning | 28-32 questions | 20% |
| Quantitative Techniques | 13-17 questions | 10% |
CLAT 2022 Important Topics - How to Select Topics
Candidates can identify the important topics by looking at the previous year papers and the CLAT exam analysis. The important topics are those that are asked frequently in the examination. Therefore, candidates should have a stronghold on those topics. Last year, questions in CLAT were asked from the following topics.
CLAT Previous Year Question Paper Analysis - Important Topics
Section

Topics asked

Level of Difficulty

English Language (30Q )

6 Reading Comprehensions




5 passages - from non-fiction based (from journals, newspapers etc. covering Vaccination, Covid etc)




1 passage from fiction based comprehension (from a short story of Sherlock Holmes)

Easy

Current Affairs/GK

7 Passages (35Q)

Topics from current affairs

Gandhi Peace Prize

Faith for Right Mechanism

Indo-China disengagement

Chabahar Day/INSTC

Ramsar Sites/World Wetland Day

Covid-19 Vaccines Maitri

World Water Day

Moderate

Quantitative Techniques

15 questions testing knowledge and concepts on -

Simplifications

Profit and loss

Income and expenditures

Percentages

Ratios

Averages

Easy to Moderate

Critical Reasoning

6 Passages (30Q)

3 passages on Covid-19

1 each on the socio-economic status in schools

Climate change impact on Asia and India and its neighbours.

Questions were asked on inferences/deductions/conclusions with some questions around strengthening and weakening.

Easy to Moderate

Legal Reasoning

Questions were from the concepts that were asked in previous years. The passages were from topics such as:

Law of Contracts

Hindu Marriage Act

Volenti Non fit Injuria

Moderate
Popular Law Entrance Exams:
7 min read
Mar 05, 2022
Read More
CLAT 2022 Important Topics to Study
Candidates can check the subject wise important topics below.
CLAT Legal Aptitude 2022
In this section, candidates will be given 6-7 passages of around 450 words each. The passages may have topics from legal matters, public policy questions or moral philosophical enquiries. Candidates are required to have basic familiarity with law to answer the questions underlying the passages. Some of the important topics for legal reasoning/aptitude are given below.
Important topics for CLAT Legal Aptitude
Subjects

Topics

Constitution

History of Indian constitution

Important acts and amendments

Law

Important laws like IPC, CrPC, law of torts, etc

Prepositions and facts

Important events related to legal and constitutional developments

Polity

Rights and Duties

Judiciary - Supreme Court and High Court

Parliament - Executive, Legislature, President

Current events related to Indian polity.
Also read | CLAT legal reasoning preparation tips
CLAT Logical Reasoning 2022
Getting success in logical reasoning depends on the candidate's own practice. The logical reasoning section will have arguments based questions to be asked from 300-word passages. Candidates can check the important topics for the logical reasoning section in the table given below.
CLAT Logical Reasoning Topics to Study
Analogies

Series

Seating arrangement

Syllogisms

Blood relations

Logical sequences and matching

Calendars and clocks
Also read | How to prepare for CLAT logical reasoning
CLAT Maths Important Topics
The Quantitative Techniques section of the UG-CLAT 2022 will have questions from a sets of facts or propositions, data interpretation, graphs, or other textual, pictorial or diagrammatic representations of numerical information. From each set/paragraph or data, 4-5 questions are asked to test the numerical skills of the candidates.
Important topics for CLAT maths
| | |
| --- | --- |
| Percentage | Algebra |
| Areas Mensuration | Number Systems |
| Time Speed and Distance | Average |
| Work and Time | Profit Loss |
| Probability | Statistical estimation |
| Mensuration | Ratios and proportions |
Also read | How to prepare for CLAT maths
CLAT English including comprehension
Candidates appearing in CLAT 2022 or CLAT 2023 should prepare well for the English section. It overlaps with legal aptitude as well as current affairs. In this section again, questions are asked from comprehension passages of 300-450 words. Candidates will have to answer the questions after reading the passages. This will not only test their reading skills but also a test of grammar and vocabulary.
Important topics for CLAT English including comprehension
Grammar

Vocabulary

Antonyms and Synonyms

Sentence correction

Adverb & Proverbs

One word substitution

English comprehension
Alos read | How to prepare for CLAT English
CLAT LLM important topics 2022
The level of difficulty in PG-CLAT 2022-2023 will be of graduation level. The question will be asked from the common subjects of LLB graduation. Therefore, candidates should refer to their LLB course books for preparation. Some of the important topics for PG CLAT are mentioned below.
Important topics to study for CLAT LLM 2022
Constitutional Law

Indian constitution

Judicial bodies - Supreme court, High Court, District courts

Quasi-Judicial bodies - Tribunals

Rights, Writs, and Duties

Elections to President, Vice-President, legislative assembly, etc.

Official language

Important acts like Panchayati Raj, Emergency powers, etc

Law of Contracts

Nature of contracts and formation

Void and illegal, unenforceable contracts

Quasi-contracts

Discharge of contracts

Guarantee and insurance

Consequences of breach of contracts

Agency contract etc

Law of Torts

Definitions

Liability, strict and absolute liability, different types of liability

Joint tortfeasors

Remedies, Negligence, Defamation

Conspiracy

False imprisonment and malicious prosecution

Criminal law

General principles of criminal law

Punishments and exceptions

Liability

Criminal conspiracy

Offenses and defamation

International law

Major international bodies like the UN, WTO, IMF, World Bank etc.

Dispute settlements

International treaties

Humanitarian laws, UN charter

Law of the sea,

State recognition

Territorial disputes

Terrorism in different forms

Environmental laws

Intellectual Property Rights

Patents

WTO IPR rules

The patents Act, 1970 and other important rules
Browse Law Colleges by Locations:
Recommended books for CLAT 2022
Candidates preparing for CLAT 2022 should refer to the best available books for preparation. They will need to clear their concepts using the CLAT recommended books. Some of the important books for the examination are given below for the reference of candidates
CLAT 2022 preparation books
English

Wren & Martin (for Grammar)

Gmat and Cat verbal reasoning books

Current Affairs

The Hindu and Indian Express newspaper

Drishti Ias website (editorial section)

Mathematics

Data Interpretation Book by K. Kundan

Legal Reasoning

Legal Articles on various legal websites, CLAT mock tests

Logical Reasoning

Gmat book and sample papers
Frequently Asked Question (FAQs) - CLAT Important Topics 2022 - Subject Wise Topics, Types of Questions
Question: What are the important topics to study for CLAT 2022?
Answer:
Candidates preparing for CLAT 2022 should study legal attitude and concepts, English, logical reasoning, maths along with current affairs and general knowledge.
Question: How many questions are asked in CLAT legal aptitude?
Answer:
In CLAT 2022 legal aptitude, there will be around 35 to 39 questions.
Question: How can I prepare for CLAT current affairs?
Answer:
You can prepare for CLAT current affairs by reading a daily newspaper and monthly magazine on current affairs.
Question: What type of questions are asked in CLAT exam?
Answer:
In CLAT, candidates are asked objective type questions from comprehension passages. Last year, around 29 passages were given in the CLAT exam.
Questions related to CLAT
Showing 7960 out of 7960 Questions