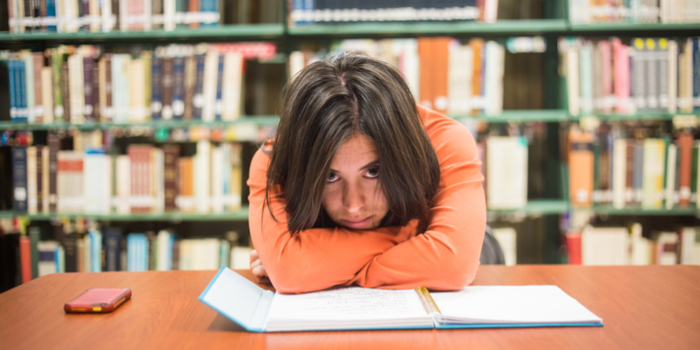 How to Prepare for CLAT in Class 12 - Being a CLAT aspirant and simultaneously, a student of Class 12, it's quite challenging yet interesting to prepare for the Common Law Admission Test. But most of the Class 12 students will have this common query, 'How to Prepare for CLAT in Class 12'. Now when you're in Class 12 and have made up your decision to pursue five-year undergraduate law programme in an NLU by appearing in CLAT, it's high time that you start preparation for CLAT 2019. You have exactly less than a year as you'll be appearing in the month of May for CLAT 2019. This means, a lot of concentration and hard-work is required for giving your best-shot for the coveted national-level law entrance examination.
Before we proceed to discuss about 'How to Prepare for CLAT in Class 12', let us go through the nitty-gritties of the law entrance test for admissions to National Law Universities (NLUs).
CLAT Sample Paper
Download Free Sample Paper for CLAT
Download Now
CLAT 2019 will be held most probably on May 12, 2019. This year's CLAT will be administered by National Law University Odisha, Cuttack. CLAT 2019 will also be an offline admission test of two-hour duration. The offline CLAT 2019 will have 200 questions covering five sections including Elementary Mathematics, English, General Knowledge, Legal Aptitude and Logical Reasoning.
Admissions Open Now
PES University Law Admissions
Apply Now for Law Admissions 2019 at PES University
According to the exam pattern of CLAT 2019, the candidates will have to choose one correct answer from the four given against any question. If the answer is correct, one mark will be awarded to the CLAT-taker else for every incorrect response 0.25 marks will be deducted from the total marks.
How to Prepare for CLAT in Class 12
Let us now look into 'How to Prepare for CLAT in Class 12', where we'll study the tips and tricks that can be used while preparing for CLAT 2019. These tips and tricks for CLAT preparation have been advised by the exam experts and CLAT toppers. In this advisory article of 'How to Prepare for CLAT in Class 12', the law aspirants can also know the wise way for Common Law Admission Test preparation where with the integrated strategy of their hard work and smart work, a better preparation of CLAT can be done.
When to begin CLAT preparation in Class 12th
One of the other queries among the law aspirants who are currently Class 12th students is 'When to begin preparation for CLAT'. The correct answer to this query is, the moment you realize it's time. The earlier you realize, the better becomes preparation and best are the results. Therefore, suppose you realize in the first few months of entering Class 12th that you should start CLAT preparation, the time is then only. The CLAT 2019 aspirants will have more time to prepare for CLAT. With over nine to ten month-time, the law aspirants can easily complete their preparation for CLAT according to the prescribed CLAT 2019 syllabus. Further, the early CLAT preparation will also help them in clearing of any doubt and begin attempting mock tests for CLAT so that the law admission test preparation can be assessed wisely.
What to prepare for CLAT in Class 12th
This is the other doubt, which a law aspirant may have while preparing for CLAT. The query, what to prepare for CLAT 2019 can again be best answered by the candidate him/her-self. CLAT toppers suggest that if a law aspirant is good in Mathematics subject, s/he should not worry much about that, rather start preparations for the subject, s/he is weak in.
The experts advise doing so will help them in strengthening the subject and its related topics.
How to strategize CLAT preparation in Class 12th
The only thing which will differ among all the aspirants preparing for CLAT 2019 is preparation strategy. However, the exam experts and CLAT toppers advise that a candidate should not fall for others' preparation strategy, rather devise his/her own strategy. It's because the strategy devised by you has a processed-logic and those devised by others are based on their logic. So unless you know the processed-logic for CLAT preparation strategy, it's not worth following it.
Now we'll discuss about how to strategize CLAT preparation in Class 12th. While a Class 12th student can clear the basic concepts in first three-four months of his nine-month preparation time period, the rest five-six months can be wisely utilized on revision, doubt-clearance and attempting related questions and mock tests.
How to prepare/study for CLAT and 12th boards simultaneously
Most of the law aspirants preparing for CLAT and 12th boards simultaneously may be worried thinking that this going to be too tough but factually it will not provided you have a better CLAT 2019 preparation-plan. It's very much doable- simultaneously preparation of CLAT and 12th boards.
Now the question arises how to study for CLAT and 12th boards simultaneously. The answer is with a correct approach towards each of the both. While you begin preparing for CLAT 2019 as much early as possible, say from May-June onward and complete all the basics of the subjects in next few months, say by November-December. Then from December/January onward, you only need to revise for CLAT 2019 giving it to two-three hours daily while you concentrate on your Class 12th board preparation in full swing.
The experts and CLAT toppers agree to the fact that during the initial days of Class 12, a law aspirant will have enough time to cover CLAT syllabus and finish the basics of each subject even as he is engaged during his regular Class 12 academic classes. Further, down the time when there are four months remaining for Class 12 board examination, the major time can be absorbed by the Class 12th board preparation. Moreover, post Class 12th board exams, the candidates can take CLAT mock tests in the remaining the two-month time and thus prepare for CLAT and Class 12 boards simultaneously.
What to avoid during CLAT preparation in Class 12th
The exam experts and CLAT toppers suggest a few measures to be taken while preparing for CLAT 2019 in Class 12th. The experts and CLAT toppers advise that avoiding certain things can help the law aspirants in better preparation for CLAT 2019. Let us take a note of what to avoid during CLAT preparation in Class 12th -
Never work on CLAT preparation strategy devised by others.

Yet there is enough preparation time for both - CLAT 2019 and Class 12th boards, but a candidate must not take this lightly as every hour of the year counts.

During devising study-plan for CLAT 2019 preparation and Class 12th boards, one must also check for destress time/re-energise moments in between the study time-table. The re-energising activities would help in putting up better performance.

There is no need to stress yourself too much between what to begin and how to begin. However, when you begin some topic/chapter of CLAT during preparation in Class 12th, just finish it religiously so that only a revision will do the rest work.

Mock tests need not to be taken before December/January months.
The law aspirants preparing for CLAT can ask their examination and other doubtful questions by writing to the exam experts at QnA platform.
Questions related to CLAT