CLAT 2021 Section-wise Preparation Tips from Experts
CLAT 2021 Section-wise Preparation Tips from Experts - CLAT 2021 will be held tentatively in the 2nd week of May 2021. The exam will be conducted in online mode given the continued pandemic situation. The national level exam is taken by around 78,000 law aspirants seeking admission to 5-year integrated and 1-year LLM courses offered by the twenty-two participating NLUs. Acing the CLAT 2021 will thus demand wholesome preparation for each section of the law entrance exam. CLAT 2021 section-wise preparation strategy will enable the aspirants to improve their chances of getting admission to an institute of their choice. Careers360 brings you the exam preparation tips to help CLAT aspirants like you access expert insights on how best to prepare for different sections of the online-based exam. In this article, we bring you CLAT preparation tips 2021 by various experts, suggest study material for the Common Law Admission Test (CLAT); also check out the best strategies for exam preparation.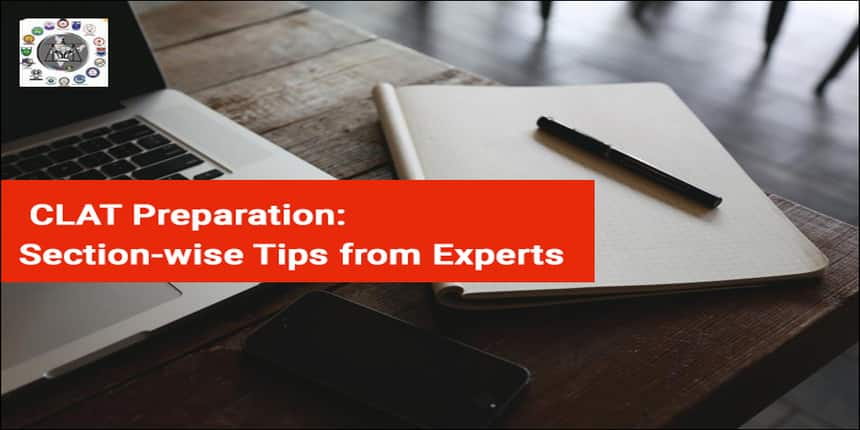 Go through the content below to read the CLAT experts advise on section-wise preparation tips for CLAT 2021.
How to prepare for the online-based CLAT 2021?
The exam will now be conducted in online mode, just like last year. So, the candidate needs to get comfortable with using a computer system, and have a basic knowledge of various features and functions, especially how to use it.
What strategy should I adopt for section-wise CLAT 2021 exam preparation?
Making a solid strategy for exam preparation is necessary to succeed. Most experts recommend that candidates plan their CLAT 2021 preparation by taking into account the nuances and challenges posed by the various sections of the national-level law exam. Aakanksha Nath, a law exam expert says, "Section-wise preparation is necessary. One needs to work thoroughly on the subjects in which s/he is weak apart from taking the mock tests. Mock tests will help law aspirants to assess their preparation level."
Then there are experts who suggest adopting a daily study routine as a mantra for success. Rajendra Khadav, Director of CrackCLAT Tutorials says, "I would suggest CLAT aspirants go for a routine study of 8-9 hours daily. However, the study hours may differ for different candidates." The Crack CLAT Tutorials Director also exhorted students to take timely breaks during study. He says, "Relaxing in between the study hours is essential as it helps your brain to memorize and revise the last round of study."
Prof. Hema Raman, Director, Sri Ram Law Academy says, "It's smart to prepare for CLAT in a systematic manner. CLAT aspirants need to have a clear concept of all the sections, know the question pattern and focus on necessary components of the law entrance exam." She further advises, "Aspirants appearing for the first time will have only one month's time after their boards so they need to strategise their preparation at the earliest."
Prof. Raman also exhorted the advantages of CLAT 2021 section-wise exam preparation. She said, "For English, one must work on grammar and vocabulary. In the case of Mathematics, elementary chapters like Time and Distance, Time & Work, Profit & Loss etc., must be paid close attention. Coming to the GK section, both current affairs as well as static GK have to be prepared properly. For Logical Reasoning, one should focus on critical reasoning and for Legal Aptitude; the focus should be on legal reasoning problems."
CLAT important books 2021 for section-wise preparation
Choosing the right study materials and books will go a long way in helping the candidate to crack CLAT 2021. Expert Aakanksha Nath says, "One has to be very careful in choosing one's reading material. It's not the number of books you have attempted but the quality of material that you are using as reference material that will count. Don't panic if your peers tell you about a new book launched in the market."
How to prepare for CLAT 2021: General Knowledge and Current Affairs
General Knowledge and Current affairs are subjects which the candidate must do self study as there is nothing conceptual that requires a guide or a teacher. The candidate must make it a point to read the question carefully and understand it before attempting to answer. It is a good habit to start jotting down all the recent happenings around the world in a separate copy. This way the candidate will not only be dependent on current affair books; to revise the sections, all one needs to do is go through the notebook and brush up. To strengthen your general awareness, you may also start reading newspapers and books like Reader's Digest, and Manorama year book.
Recommended books CLAT 2021 for General Knowledge section
India Year Book

Manorama Year Book

Pearson General Knowledge Manual 2019

Lucent's General Knowledge

Competition Success Review

Pratiyogita Darpan
How to prepare for CLAT 2021: Logical Reasoning
Logical Reasoning can seem to be tricky, but if you put your mind to it you can decipher it without much effort. It is all about using some common sense and logic, but you will need lots of practice to master the section. The logical section would include questions on blood relations, analogies, syllogism and logical sequences. Each of these types of questions require a good amount of practice before you can start feeling comfortable.
Best books for CLAT 2021: Logical Reasoning
Verbal and Non-Verbal Reasoning by RS Aggarwal

Analytical Reasoning by MK Pandey

Analytical and Logical Reasoning by R.S. Aggarwal
How to prepare for CLAT 2021: Mathematics
To prepare for questions in this section, one should pick up quantitative aptitude questions for practice. Questions in this section will be from a variety of topics like Number systems, Algebra, Coordinate Geometry, Geometry, Trigonometry, Mensuration, Statistics and Probability.
Best books for CLAT 2021: Mathematics
Quantitative Aptitude by RS Aggarwal

Class 10th NCERT Textbook
How to prepare for CLAT 2021: Legal Aptitude
The legal aptitude section is an important section in CLAT 2021. The section would consist of two parts: Legal Reasoning and Legal Knowledge. To answer questions from the Legal Reasoning section, one must be able to carefully read and understand what it is asking before proceeding to answer it. For the Legal Knowledge section, the candidate must be aware of the Legal Maxims to accurately use relevant legal terminologies. The section will also have questions from Legal Awareness topics, which may be based on some recent events, like a case in the Supreme Court.
Best books CLAT 2019: Legal Aptitude
Universal's CLAT Guide

Legal Awareness and Legal Aptitude by AP Bhardwaj

LexisNexis Butterworths

Bare Acts of Indian Constitution
How to prepare for CLAT 2021: English
English is not a subject one can muster in a few months, leave alone weeks. It is because it requires extensive practice. So, a good idea is to start preparing for the subject at least 6 months or so before the exam. The section will include questions from topics like English Comprehension, Grammar, Vocabulary and Fill in the blanks.
Recommended books CLAT 2021: English
Word Power Made Easy by Norman Lewis

English is Easy by Chetananand Singh

Objective General English by RS Aggarwal

Barron's Pocket Guide to Vocabulary

High School English Grammar and Composition by Wren & Martin
Questions related to CLAT
Showing 7328 out of 7328 Questions