MH CET Law Important Dates 2020 - Result (OUT), Counselling, Merit List
MH CET Law Important Dates 2020 - Directorate of Higher education, Maharashtra has released MH CET law 2020 result for 3-year LLB on December 2, the exam was conducted on from November 2-3. MH CET Law important dates cover events like application form, admit card release, exam date, counselling etc. Law aspirants of MH CET Law Exam 2020 must mark the important dates so they don't miss any events. Moreover, MH CET Law important dates 2020 will also be used by the candidates to plan their preparation. After reading MH CET Law 2020 important dates, a candidate will be able to know the dates within which applications are accepted by the conducting body and other important dates like the dates for admit card release, MH CET Law exam 2020, result declaration, etc. To know more about MH CET law important dates 2020, events and other related information read the article below.
LATEST - MH CET law result declared - Check here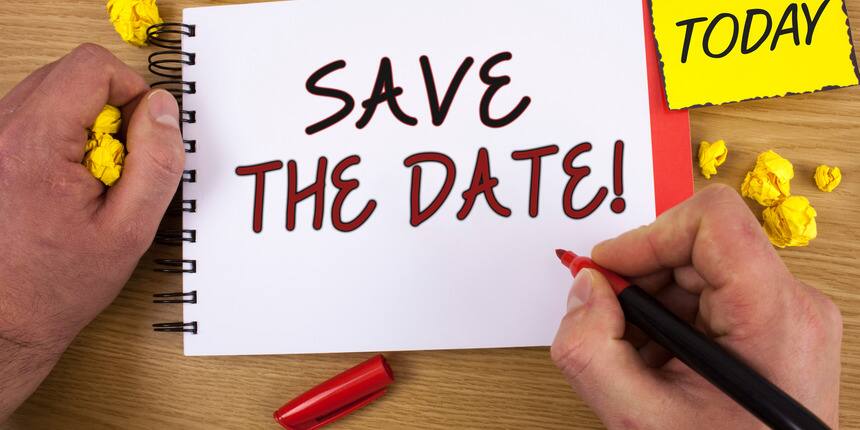 MH CET Law 2020 is conducted for admissions to undergraduate programmes of law. The law colleges of Maharashtra will accept MH LAWCET 2020 score for giving admissions to 3-year LLB and 5-year LLB programme. MH CET Law exam for both the UG programmes will be conducted separately.
MH CET Law - An overview of the important dates
The entire admission process will contain different events like the release of MH CET notification, the commencement of online application forms, exam date, result and counselling. Below is a list of all events in a sequential manner, along with these, the respective dates are also given. Candidates can refer to these dates for MH CET Law 2020, further, if there are any changes in the schedule of MH CET Law, that will also be updated in this section.
MH CET Law 2020 important dates
Events
5-year integrated law
3-year LLB (Revised)
Release of official notification
December 4, 2019
December 4, 2019
Commencement of application form
January 21, 2020
March 19, 2020 (

Open

)
End of Application form
March 02, 2020
May 06, 2020

Application form (Re-opened for last time)

June 2 - 8, 2020

June 2 - 8, 2020

Issue of admit card
October 2, 2020

October 23, 2020

MH CET Law exam
October 11, 2020
November 2-3, 2020
MH CET law result 2020
November 27, 2020
December 2, 2020
Start of counselling
To be notified

To be notified

MH CET Law 2020 - Important events
The complete admission process is a bit long, and there will be multiple events. Candidates are expected to be aware of these events. Below we are giving a brief overview of all the important events related to MH CET 2020.
MH CET Law 2020 - Application form
The application form for MH CET 5-year LLB and 3-year LLB has been re-opened from June 2-8, 2020. Candidates can apply in online mode. After that, the application form will be closed. Applicants are advised to fill the application form and pay the requisite amount of fees at the earliest to get the exam centre of their choice. The exam centres will be allotted on the basis of maximum intake. After an exam centre reaches its maximum capacity, it will not be available for selection.
The admit card for MH CET Law 2020 is available in online mode only, the authorities will not send the document by post or courier. Candidates may download the MH CET 2020 admit card and keep a few print outs of it. MH CET Law admit card 2020, being the most important document for the exam, will contain the information related to the exam centre, date and time, roll number, application number etc. it is mandatory for all candidates to carry the admit card to the examination centre while appearing for MH CET Law 2020. Moreover, candidates are advised to keep the admit card until the admission process is over.
MH CET Law 2020 - Exam
MH CET Law 2020 exam for 5-year LLB programme has been conducted on October 11. The LLB - 3-year entrance exam of MH CET 2020 has been conducted on November 2-3. Both the exams are conducted in online mode only and 150 questions will be asked each carrying 1 mark. Moreover, there will be no negative marking in MH CET Law 2020.
MH CET Law 2020 - Result declaration
The authorities have declared MH CET Law result for both three-year LLB and five-year LLB in online mode. MH CET Law result 2020 will mention the marks secured by the candidates and their provisional qualification status.
MH CET Law 2020 - Counselling and Seat allotment
After the result declaration, qualified candidates will be called for counselling and seat allotment. The seat allotment will be governed by the method of merit cum preference. After every round of counselling, the conducting body will release the cut off list, containing the names of provisionally selected candidates.
Frequently Asked Question (FAQs) - MH CET Law Important Dates 2020 - Result (OUT), Counselling, Merit List
Question: Does the private colleges of Maharashtra accept MH CET Law score?
Question: What will be the application fee for MH CET Law 2020?
Answer:
The application fee will vary according to the category of the candidate, While, for general category candidates, the MH CET Law fee is Rs. 800, the reserved category candidates from Maharashtra will have to pay Rs. 600 as application fees.
Question: How can I access the list of all MH CET law participating colleges that provide 3-year LLB programme?
Answer:
The isn't available in the information brochure, so you will have to visit the official website of MH CET. you can find 3-year LLB course approved colleges list once you click on LLB 3-year at home page.
Question: Will MH CET Law be conducted in Marathi only?
Answer:
No, alternatively the English language will be also be used in MH CET Law exam paper. Candidates who are from outside of Maharashtra and don't know Marathi language can choose English language.
Question: When can I apply for MH CET law 2020 3-year LLB entrance exam?
Answer:
The application form for MHCET Law 2020 for 3-year LLB will be released on March 19, 2020. you can apply anytime on or before the last date of application submission.
Questions related to MHCET Law
Showing 33 out of 33 Questions