Legal Courses in India – With the Indian education system shifting towards professional courses from the technical ones, Legal Courses have been able to bite a small share of it. Maybe many of you still can't risk your career options, while some of you consider law to be suitable for only those who have inherited it from their family.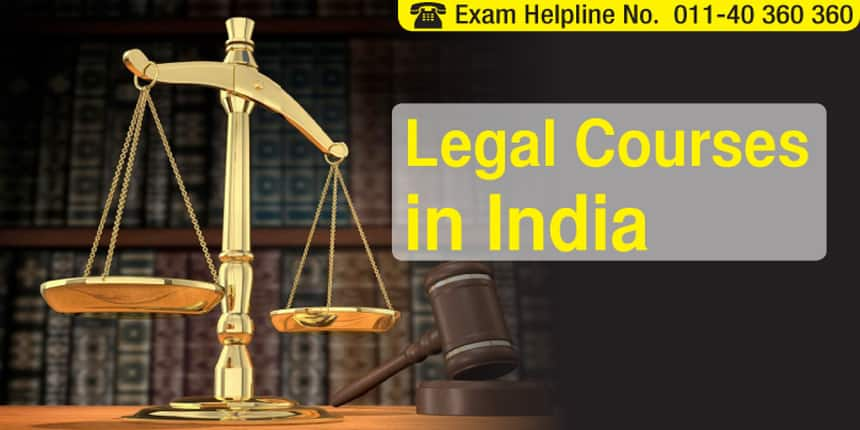 Careers360 brings you expert take on Legal Courses in India.
Click here to Enroll All India Law target Pack 2015 for All India Law Entrances Preparation, Counselling and College selection.
For any queries and doubts, call Legal Courses Helpline @ 011-40360360


Dr. Harpreet Kaur, Professor of Law,
NLU Delhi
Dr. Harpreet Kaur, Professor of Law of National Law University, Delhi shared her insights with Careers360 on Legal Courses in India. Read the excerpts of the interview below –


Careers360: What is the current scenario of Legal Education in India?
Dr. Harpreet Kaur: Legal education in India is regulated by the Bar Council of India. Currently, there are two models of legal education in India namely, three year Bachelor of Law degree and five year integrated Law degree. The focus and scope of these two models is different from each other.


Careers360: How are both different from each other?
Dr. Harpreet Kaur: The traditional model of legal education in India consists of three year Bachelor of Law Degree (LLB) which is offered by traditional universities. Different law subjects are taught in this traditional degree course. A new model of five year integrated law degree was evolved and offered for the first time by National School of Law University. Five year integrated degree is offered by generally by special law universities and schools. As the name suggests the integrated model devised integration of two streams, one being law and other stream can be Arts, Management, Science or Commerce. If Arts is the second stream, degree will be BA.LL.B and if commerce is the second stream, the degree will be B.Com. LL.B. Therefore, subjects of both streams are taught in this integrated degree. National Law Universities generally offer BA. LL.B integrated degree. A few universities have now started offering other integrated programmes like BBA LLB and B.Sc. LLB. In BA.LLB degree, subjects like English, Political Science, Economic and Sociology are taught along with law subjects. Such subjects are taught generally till three years of the course and fourth year onwards only law courses are taught. Similarly, BBA LLB, B.Com. LLB, B.Sc. LLB integrated degrees include programmes on management, commerce oriented and science oriented subjects respectively, along with Law subjects.


Careers360: Which between the two is advantageous?
Dr. Harpreet Kaur: Both have their own advantages. The obvious advantage of integrated degree is in the integration of subjects, besides saving one year of the aspirant. They are industry specific degrees. After completing the degree aspirants can take up work in accountancy or taxation firms, management, banking sector, companies, law firms etc. Another advantage of course structure of integrated degree is that apart from core courses, special seminar courses are also taught to students. Different specialized seminar courses are offered, students can opt from them depending upon his interest area. Such courses help students in having additional knowledge of the areas in which they want to develop their career. I would like to mention here some of them like real estate, securities market, competition law, international business, mergers and acquisitions, maritime law etc.


Careers360: Share the industrial exposure of five year integrated law programmes.
Dr. Harpreet Kaur: Internship is a requisite as well as an advantage of these integrated degree programmes. Students can join internships during their vacation and from fourth year onwards such internships become compulsory as per the course curriculum. Teaching pedagogy is different for traditional teaching and it is mostly through case law. It is in simulated settings like moot courts, client interviewing, mediation etc. Course structure also includes clinical programmes on legal aid, alternative dispute resolution, pleadings, court management and practical training etc.


Careers360: What are the possible career options an aspirant can go for after having a five year integrated law degree?
Dr. Harpreet Kaur: Many career options are open for students with the five year integrated law degrees. An aspirant can join companies for corporate law, mergers and acquisitions, taxation and international trade etc. besides joining legal profession through law firms or private litigation with senior lawyers, students. I would suggest this because a candidate possesses a specialized knowledge through the five year integrated law degree. Students also have options of joining regulatory bodies like electricity regulator, competition commission, foreign investment promotion board, securities and exchange board etc as legal assistants.


Careers360: Guide a three year law degree aspirant for career option? How can it be different from those aspiring for five year integrated programmes?
Dr. Harpreet Kaur: The three years degree programme is opted majorly by those who want to have career as a lawyer, as an academician or want to join the judiciary. However, the option of joining judiciary is also available for students with integrated degree. Another option available for students with both types of law degrees is that they can appear for civil services. As stated earlier that objective of integrated programmes is to give students advantage of knowledge of two streams.


Careers360: If an aspirant wants to pursue higher studies in management after having a degree in law, how can the law degree be useful to him?
Dr. Harpreet Kaur: This also opens avenues for aspirants to opt for different post graduate programmes if the student decides not to have career in law. For example, if a student wants to have career in management and wants to do MBA, doing BBA LLB or any integrated degree will be advantageous for him/her because knowledge of law will add value in his/her management field. Management programmes taught under BBA LLB will be additional advantage for him.


Careers360: How can an aspirant pursue these law programmes?
Dr. Harpreet Kaur: The eligibility criteria for LLB programme include a minimum of bachelor's degree from any recognized university in any discipline. Some universities also require students to appear in entrance examination for admission in this programme. One can join the five year integrated programme after clearing 10+2 examination or higher secondary or any equivalent certificate from a recognized Board. There is no age bar for the three year LLB degree whereas in case of integrated programmes age limit for general candidates is 20 years.


Careers360: What are the specific reasons behind the increase in number of registrations in the five year integrated programmes?
Dr. Harpreet Kaur: The number of registrations has increased in the integrated degree programmes because students can join the law programmes just after their intermediate, save one year and get better course structure in addition to better career options. While the three years Bachelors degree programme is more popular among working professionals and those who want to have career as a lawyer only.
Better course structure, pedagogy, internships, exposure to students and better career options are few advantages of five year integrated degree programmes. Students join them by choice because they know that such programmes will lead to their overall development.


Law Programmes in India at a glance –
| | | | |
| --- | --- | --- | --- |
| Name of the Course | Duration of the course | Advantages | Career options |
| LLB | 3 years | Expertise in law | Litigation, Judiciary, Academics, Civil Services |
| BA LLB, BBA LLB, B.Com LLB and B.Sc LLB (Hons.) | 5 years | Expertise in two streams | Litigation, Judiciary, Academics, Law Firms, Companies, Corporate Counsels Taxation Firms, Law Clerks Or Assistants, Regulatory Bodies |
Must Read Articles -

Law in India: An Honourable Career
CLAT 2014 Online Counselling to Save Time and Effort: GNLU
CLAT 2014 Co-Convener talks about NLU expectations
CLAT 2014 – A Journey from 2008 till Date
Top Law Colleges in India

Stay tuned to law.careers360.com for more news and feature articles on Legal Courses in India



Questions related to AILET
Showing 290 out of 290 Questions