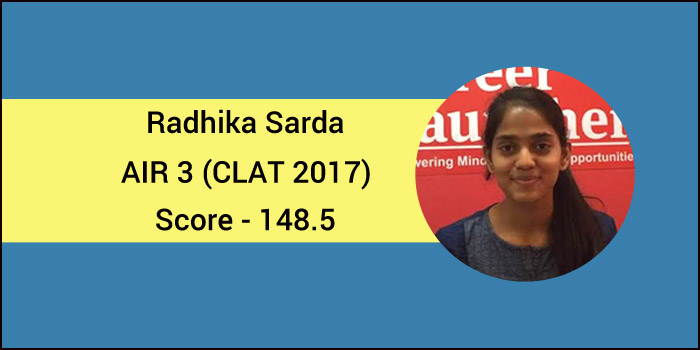 Radhika Sarda with a score of 148.5 out of 196 bagged AIR 3 and emerged as one of the CLAT toppers 2017. The Rajasthani girl, who scored highest among the girls, shares that she does not believe in shortcuts to success and took a year off to prepare properly for the Common Law Admission Test. With a CGPA of 10 in Class 10 and 90.2 percent in Senior Secondary with Commerce (Maths) as her branch, Radhika had decided to pursue law as a career in Class 11 itself. An avid fan of Sherlock Holmes series, the CLAT 2017 AIR 3 shares that she took it as a challenge to qualify the national-level law entrance exam, CLAT.

Related Post
CLAT 2019
CLAT Application Form 2019
CLAT Admit Card 2019
CLAT Sample Paper
Download Free Sample Paper for CLAT
Download Now
Radhika Sarda, in this exclusive interview with Careers360 speaks on her success strategies as she shares her study-plan from her preparation year. She also talks about importance of mock tests and how they may be helpful.
Admissions Open Now
PES University Law Admissions
Apply Now for Law Admissions 2019 at PES University
Read on to know how Radika Sarda chased her dreams and made them come true.
Excerpts of interview with Radika Sarda, AIR 3, CLAT 2017 –
Careers360: Congratulations Radhika! You secured AIR 3 in CLAT 2017. How are you celebrating your success?
Radhika Sarda: I am celebrating my success with my parents and teachers. I am also planning to party with my friends.
Careers360: Were you expecting this rank? What was your first reaction when you came to know about CLAT result 2017?
Radhika Sarda: No, I did not expect this at all. My success came as a pleasant surprise to me. My teacher called me up and confirmed my CLAT result 2017. I could not believe my ears and had it verified more than once.
Careers360: What was your preparation strategy for CLAT 2017?
Radhika Sarda: I followed a three-step strategy. The first step was to get through the basic concepts, understand and revise them consistently. The second step involved practicing questions based on my understanding of the basic concepts and the third step involved remaining calm and focusing on the goal.
Careers360: What made you choose law as a career option?
Radhika Sarda: Since my childhood, I was always interested in exploring the details about all kinds of topics. I loved to argue, uncover the truth and ascertain all facts before reaching a conclusion. After growing up, I realised I had an inclination towards being part of the Indian legal system. Sometimes, I would watch TV and follow court cases. It was in Class 11 that I finally made up my mind to choose law as a career. I believe one should listen to their inner-self and proceed confidently in the direction of their dreams.
Careers360: How did you plan your preparation of CLAT?
Radhika Sarda: I began my Common Law Admission Test preparations way back at the end of July. I structured a study-plan for 10 months, while I determined to take one-year drop for the CLAT after passing my Class 12 board examination. I devoted six hours on a regular basis for self-study even as I took coaching guidance from Career Launcher. During the first few months of my preparation for CLAT, I cleared the basic concepts of each subject-matter as per the CLAT syllabus. Whenever I had any doubt, I would note it down and discuss it with my friends and teachers, understand it thoroughly and then move onto the next topic. This method helped me a lot. The next phase of my CLAT preparation included solving questions based on my understanding of the subject-matter. I would not leave any question unsolved. If I got stuck in a question, I would try to find all possible ways of solving it. I think it was this consistency which enabled me to achieve this success. The final phase was focusing more on the weaker subjects.
Careers360: How many hours did you devote to CLAT preparation? Can you specify your subject-wise CLAT preparation? How did you manage your weaker subjects?
Radhika Sarda: When I was taking guidance from coaching classes, I would put in five to six hours but gradually, when I was left with ample of time for self-study and revision, I would give as many as 14-15 hours each day.
Indeed, I had planned a subject-wise strategy for CLAT preparation.
English – I found this subject comparitively easy to the others. Therefore, frankly speaking, I did not have to work much on this section. However, I read newspapers, jotted down every new word, found its meaning and practiced it. I would practice 10-15 new words daily. This helped me in polishing my vocabulary. Further, my English grammar is good. Therefore, I only practised from the previous years' papers to prepare for CLAT.
Mathematics – The questions in this section are of 10th standard level, which I was already comfortable with. The only effort which I put for this section was to practice regularly with lots and lots of questions. I tried the numerical ability questions of each and every type.
Reasoning – The questions in this section were quite interesting. I loved to solve them. I went through the basic solving techniques and tried attempted atleast 20-25 questions daily.
Legal Aptitude – This is one of the toughest sections the CLAT paper has. First of all, law aspirants like us are not aware of this subject at the Class 10+2 level. Secondly, the section also comprises questions on legal vocabs and maxims. Lastly, law aspirants should understand the question and know the methodS to solve it. Once the conceptual clarity is developed on reading the principles, understanding them and relating it with the given facts, most of the work is done and a good score can be obtained in this section.
General Knowledge – This is the section which I feared most. The syllabus of GK is vast and CLAT online paper has a record of asking the most recent possible questions. This year too, there were questions from events that took place just the previous week. Therefore, a law aspirant needs to be updated with each event that might have taken place recently. I noted down the events on a weekly basis and revised them regularly. I would also highlight the most important court cases which took place in recent days and years. Further, while practicing questions, if I would forget some question or event, I wrote it down several times to memorise it better. I consulted Pratiyogita Darpan, Success Review, and different online websites. Moreover, I devoted at least 30-45 minutes every day to read Indian Express, the national daily newspaper. Here I would also like to mention the important of the group discussion sessions I had with my friends, especially Shubham Jain, which helped me in keeping my GK updated.
Careers360: What is your opinion on CLAT mock tests?
Radhika Sarda: Mock tests are an essential part of the examination preparation. A candidate cannot prepare properly for exams like CLAT, AILET, MH CET Law, etc., without taking mock tests. It's because mock tests are not only sample sets of questions which a candidate should be practicing with while preparing for a law entrance exam, but they also serve the purpose of analysing your pre-exam performance too. Mock tests should be taken seriously as they are the actual tool for measuring the path towards the goal.
Aspirants may begin taking mock tests only after they think that they are prepared for them. I began taking mock tests for CLAT from the month of August. Initially, I began taking two to three mock tests every week, which was increased three-fold on a weekly basis. Between the last months of CLAT preparation, say February to April, I had taken as many as 40 mock tests, which boosted my confidence. I began with scoring 80 points out of 200 in the initial days of taking mock tests, which exponentially rose to 160 points in the final stage of CLAT preparation.
Moreover, the mock tests also help in increasing speed as well as accuracy in solving questions in the national-level law entrance exams.
Careers360: What should a law aspirant focus more on– Speed or Accuracy?
Radhika Sarda: A law aspirant should initially focus on accuracy, but gradually the focus needs to shift towards speed. It's because in law entrances like CLAT, a candidate is expected to solve as many questions as possible from a total of 200 in a time limit of two hours, i.e., 120 minutes. Therefore, the speed matters. However, accuracy is equally important because the candidate cannot afford to attempt questions incorrectly as negative marking policy is followed where crucial marks might get deducted from the total scores.
Careers360: Amidst such a hectic CLAT preparation schedule, what did you do to de-stress yourself?
Radhika Sarda: Yes, sometimes it did become too hectic for me. I would then destress myself by partying and relaxing with my friends. Also, I would visit different places and refresh my mood before coming back to my CLAT preparation module.
Careers360: What are your hobbies? Which was the last movie that you watched?
Radhika Sarda: I love reading mystery story books. Sherlock Holmes is my favourite. I often listen to music of all genres. I am also fond of watching Hollywood movies. However, the last movie which I watched was an Indian one, 'Baahubali - The Conclusion', after taking CLAT on the evening of May 14. During my CLAT preparation days, the last movie that I watched was 'Inception'.
Careers360: Could you share how you controlled your stress on the exam day?
Radhika Sarda: Yes, I was a bit nervous but equally excited on the CLAT day. Nervous about the GK section and excited that finally the day has arrived and I was going to put in my best. I was confident about my preparations and thus was ready to attempt as many questions as possible correctly.
Careers360: What strategy did you apply while taking online CLAT?
Radhika Sarda: I moved with a simple strategy on the CLAT day, to solve the questions of English, Numerical Ability and Reasoning sections first and then move to Legal Aptitude and at last GK. I prioritised the sections as per my command over them. This helped me a lot and I could score 148.5 marks in CLAT. If not for this strategy, I might have remained stuck with some time-consuming questions and wasted my precious time. It's very important to learn time-management skills.
Careers360: What are your messages for future CLAT aspirants?
Radhika Sarda: There are no shortcuts to success. A law aspirant needs to engage in proper planning and work hard on that study-plan. It's futile to take stress, rather focus on executing the plan. Mastering the basic concepts is essential and regular mock tests will help in analysis the preparation level. Never lose hope and remember that every effort counts.
Must read featured articles–
Stay tuned to law.careers360.com for more CLAT topper interviews
Get real-time alerts on exam & colleges at your fingertips with Careers360 App!
Click Here to Install or Give a missed call on 08080944727 to get app link.
Questions related to CLAT