CLAT topper interview, Jai Singh Rathor
Getting success in the Common Law Admission Test (CLAT) is a dream come true for Jai Singh Rathor who secured AIR 3 in the merit list. Coming from a humble family from Patna, Jai Singh struggled to set his CLAT momentum but soon overcame the hurdles posed by financial constraints and uncertainty due to the repeated postponements. Talking about the CLAT preparation, he believes that newspapers have an important role to play and having a clear cut strategy is very important. Jai Singh started his journey from Patna and is now a student of India's top ranked law school; NLSIU Bangalore. Talking to Careers360, he shared his experience of CLAT preparation and how he overcame the economic constraints defying the myth that legal education is not for middle class families. Read the complete interview below.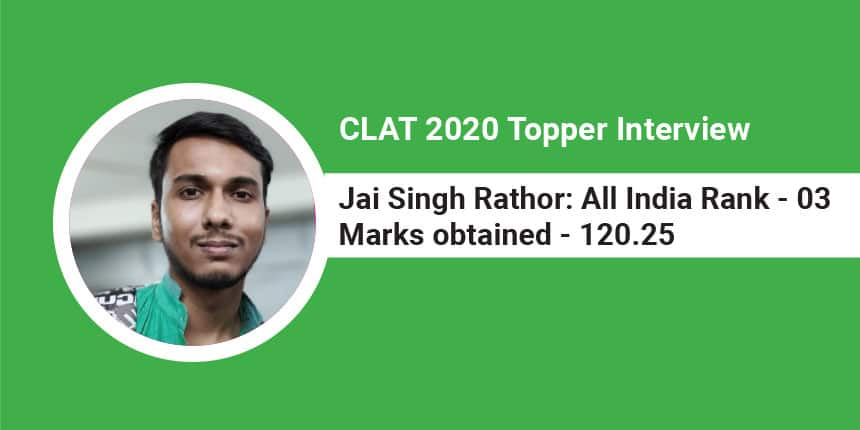 CLAT 2020 toppers interview - Jai Singh Rathor AIR 3
Question - Tell us about yourself; your name, address, family background.
My name is Jai Singh Rathor and I am native to Bihar and my father runs a small grocery store (Kirana Store) in Patna.
Question - Congratulations on getting AIR 3. How does it feel to be among the toppers and how did you celebrate your success?
Well, I was excited and jovial but for the celebration part, I didn't do much that day. I just sat with my family and enjoyed the time.
Question - Tell us about your school education. And why did you choose law for higher education? What kind of legal profession do you want to pursue after graduation?
I did my 12th from the state board and scored decent marks. I chose law because I was interested in political and international affairs. I want to learn Corporate Law as I am intrigued by its complexity.
Question - Tell us about your CLAT journey. How did it start? What problems did you face during preparation?
I started my preparation in January 2019. I was interested in Legal Affairs so after a brief analysis I chose law as my career option. But, when I saw the fee structure of the national law universities, I thought about looking for any other career option. Later I came across a scholarship programme of IDIA. I appeared in IDIA's screening test and after financial background check I was selected as an IDIA trainee. I had many ups and downs during my CLAT preparation, but my mentors kept motivating me throughout.
Question - What Role did IDIA play in your CLAT success? How is it different from coaching institutes?
IDIA played a huge role in my success. It was like a big family guiding me for CLAT preparation. It also helped me in resolving my financial issues. IDIA bore my CLAT cost including the data packs for online classes during lockdown.
Question - Now that you have cleared CLAT, tell us which NLU and law course have you chosen? Any particular reason for choosing NLU and law course?
I will go to NLSIU Bangalore and study BA LLB. It is a dream for any law aspirant to study the best law school of India so, NLSIU was an obvious choice.
Question - Tell us about your CLAT preparation, what was your daily routine, how many hours did you study?
I needed to work on my English as it was a comprehension based test. For general knowledge. I think reading the newspaper is the key for getting good marks in the CLAT exam. It not only helped me in general knowledge but also in sections like English and to some extent in Legal And Logical sections too. For the Maths section, I solved questions related to the data interpretation given by my teachers. I studied for around 9-11 hours a day.
Question - This year, Consortium shifted its focus from testing prior knowledge to reading and critical thinking ability. How did you develop these skills?
The sudden change in the exam pattern of CLAT was frustrating at the start. But then, it came in our daily routine as we started practising. To develop the reading ability, I started reading the newspapers, articles and editorials. I also solved a good number of comprehension passage-based questions. The logical reasoning section requires critical thinking ability. There are mainly four types of questions in CLAT -
Strengthening or weakening the author's argument,

Identifying the central or main idea of the passage.

What can be inferred from the passage?

Assumption based questions.
The questions of LR can be easily solved by identifying the author's point of view and knowing how the author has supported his point of view. In this section, identifying the conclusion of the passage is also important.
Question - How did COVID impact your preparation for CLAT?
It was a boon in disguise because I got a lot of time to study and review every section of the CLAT. Nevertheless, It was a difficult time for everyone preparing for the exam.
Question - How did you keep yourself motivated on the face of repeated postponements and the lockdown?
The biggest motivation for me is my parents. My father stands in the store continuously for 10 hours a day. He is dedicated towards his work and this inspires me. My mentors also motivated me during the CLAT preparation which helped me to face the uncertainty caused by the pandemic.
Question - The current affairs section this year was very different from the past years as it was analysis based. Tell us how did you prepare for this section and how did you answer the questions?
This is very true because CLAT is the only exam I know that ask current affairs questions in the form of passages. Answering CLAT questions from current affairs requires deep knowledge of the topics. I read the newspapers, made notes on the important topics suggested by the teachers. Further, I did research about the topics on the internet. The websites such as Drishtiias, The Print helped are a good source for current affairs preparation.
Question - Given that CLAT this year had reading comprehension based questions which are generally time-consuming. How did you manage time while answering the questions? Did you follow any particular strategy for attempting the question paper?
I gave a lot of mocks and learned time management. My strategy included -
Starting with the general knowledge section and giving 15 mins to it.

For the English section, I gave around 25 minutes.

Then to answer the logical reasoning, I used around 25 minutes

I took more time in answering legal reasoning and gave around 40 minutes to it.

Answering the maths section took around 15 minutes
Question - How was the Legal Aptitude section in CLAT 2020? Tell us about your preparation strategy for this section.
The legal section this year was moderate. Most of the questions that came in the exam were either from the mock tests or were discussed at my institute. I solved a lot of mocks and analysed my paper.
Question - How many sample papers and mock tests did you solve? How solving sample papers benefits in CLAT preparation
I solved the CLAT sample papers released by the CLAT consortium 2-3 times. I solved the mock tests and sectional tests provided by my teachers.
Question - Tell us about the English language section of your paper. How did you prepare for this?
The English language section can be divided into three parts, reading comprehension, vocabulary, and figure speech. For reading comprehension, I read articles, newspapers, and solved some comprehension based questions.
To deal with the vocabulary, I read two books, One was my institute book and the other one was World Power Made Easy. And lastly, for the figure of speech, I used coaching material and practised mocks.
Question - Tell us about the booklist that you followed for each subject; English, Current Affairs, Maths, Legal aptitude,e, and Logical reasoning.
For the new pattern, I wouldn't recommend any specific book as students now need to develop the conceptual clarity for each section. However, to start the preparation by referring to books like How to Read Better and Faster and "Wordpower Made Easy" For English. Reading the newspaper is crucial. It would help you in every section.
Question - Are you getting any scholarship from your university or Institute? If yes, tell us how one can take the benefits of scholarships?
Yes, I am getting a scholarship from IDIA. The scholarship is for financially weak students. The details of the scholarship are available on the official website of IDIA.
Questions related to CLAT
Showing 7230 out of 7230 Questions