CLAT 2020 Topper Interview: "Ditched social media and focused on preparation," says Ishan Thakur, AIR 19
CLAT 2020 Topper Interview: For any law student, CLAT is more or less the most important exam as it is the pathway for admission to the NLUs in the country, many of which are among the top law schools in the country. So, when Ishan Thakur was understandably delighted to have found out that he has not only performed well in the exam, but has secured AIR 19. Consequently, he can now get admission to his dream institute, NLSIU Bangalore, which for the record is the top ranked law school in the country as per NIRF Rankings 2020. To prepare for the CLAT exam, Ishan started his preparation well in advance and also ditched social media so that there was no distraction. It may be noted that the result of CLAT 2020 was declared on October 5; the online exam was held on September 28.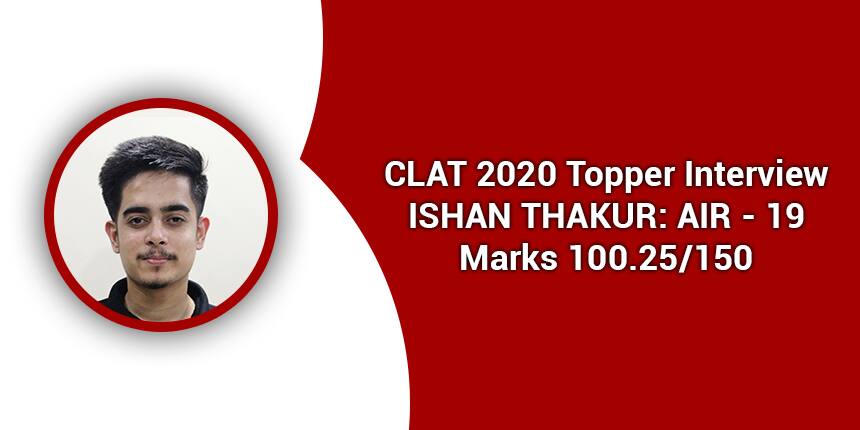 LATEST: Top colleges other than NLUs accepting CLAT scores - Click here
Careers360 got in touch with Ishan Thakur to learn more about his preparation strategy. Here are the excerpts.
CLAT 2020 - Toppers interview
Question 1: Give us a brief introduction of yourself?
I'm Ishan Thakur. I am a resident of Indore (M.P). My father is an Inspector in Customs and Central Excise Department and my mother is a home tutor. After completion of my 12th class I decided to take a drop year and prepare for the CLAT (Common Law Admission Test) exam. I got AIR 19 in CLAT 2020 exam. And I will be joining NLSIU Bangalore which is the top law institute of our country.
Question 2: Congratulations on getting AIR 19. How does it feel and how did you celebrate?
Since last year I have been preparing very hard for the exam. I also took a break from all social networking platforms and focused sincerely on my preparation. Actually, I was confident of making into one of the top three NLUs this year but AIR 19 was quite unexpected.
Question 3: What are your NLU and course preferences through CLAT? Any particular reason for the choices?
My preference was joining any one of the top three NLUs but now I will be joining NLSIU Bangalore, the top most law college of the country which is usually dream of every law aspirant. I would be studying B.A LLB (Hons) there which is a 5-year integrated course. I think B.A is the best option to study along with LLB as the subjects in both of them are closely related.
Question 4: Did you appear in any other exam apart from CLAT? How did you fare in those exams?
Along with CLAT I also appeared for SLAT which is law admission test for symbiosis institute and I also cleared it and got a chance to study at Symbiosis Pune, which is also one of the premier law institutes of the country. Also, I got a 100% scholarship at Nirma University, Gujarat which is also a good private law college. I also appeared in the AILET exam which is basically an entrance exam for NLU Delhi (as it conducts its separate exam), but sadly I didn't make it.
Question 5: Tell us about your CLAT preparation amid COVID pandemic. How did you manage your study during the lockdown?
The Covid-19 pandemic and lockdown have had a huge impact on all the aspirants preparing for various exams. Also because of the pandemic our exam which was scheduled for May 10, 2020 got postponed thrice and finally it happened on 28 September, 2020. During this phase I tried my best to motivate myself and keep studying which I think helped me very well to clear this exam. I think amidst the uncertainty due to the pandemic, pushing myself and doing the right things for my preparation was the key.
Question 6: What did you prepare for various sections of the paper? Can you elaborate a bit.
Actually the section preference for the exam differs individually and there is no best section preference which you can find. But the section preference which I followed was first English then Current affairs followed by Legal Reasoning then Mathematics and lastly Logical Reasoning. The exam pattern was changed last year by CLAT Consortium and now it's a more reading oriented exam so this sequence suited me very well.
Question 7: What was your study routine for CLAT? Like when did you wake up, how many hours did you study, breaks, ...etc.
During the initially days of my preparations I used to study in the early morning hours but after the pandemic came and lockdown was imposed the routine started to fluctuate. I think everyday is different. Some days I used to study the whole day and on other days just 4-5 hours; so it depends as studying for the same number of hours daily is a difficult task. But during the final days before the exam I gradually increased the time I used to give to my preparation. Also taking short breaks is very important according to me as it rejuvenates you to study for long hours in a single go.
Question 8: How many sample papers did you solve throughout the CLAT preparation and when did you start solving sample papers? What are the specific benefits of solving sample papers? Also how many sample papers one must ideally solve?
As the pattern of CLAT got changed last year so past year papers were not very helpful for the 2020 aspirants. But I diligently solved all the new sample papers and questions given by CLAT Consortium 4-5 times. I think solving the sample paper gives a birds-eye-view about the exam and is very helpful.
Question 9: Did you take mock tests, how many did you take? Are they useful?
Throughout my preparation I have given more than 70-mock tests. I think giving mock tests is an essential part of preparation as it helps you to understand your weaknesses and strengths and you can then work accordingly to improve your score. Also, after taking the mock the important thing is its thorough analysis which I think many people don't follow.
Question 10: The current affairs section this year was paragraph based, what was your strategy for this section?
I used to read newspapers like The Hindu and Indian Express daily which I think helped me to tackle the analysis based current affairs section this year and to score good marks in it.
Question 11: Did you do self-study or relied on coaching?
I did my preparation through a coaching institute (Legal Edge Indore) because I think it makes it easy for an aspirant to shape his preparation properly and compare his preparation and scores with others who will be attempting the same exam.
But the new pattern of CLAT requires good reading and comprehension skills which anyone can develop by reading newspapers and magazines and various legal articles; so someone who can't afford to join a coaching institute can also prepare through the said method.
Question 12:Tell us about the booklist that you followed for each subject; English, Current affairs, Maths, Legal aptitude and Logical reasoning.
The new pattern requires reading and comprehension skills as said above so there are no specific books for the new CLAT pattern in the market presently but mocks of my coaching institutes were helpful for attempting the questions of the new pattern. Some specific material which I referred to were as follows:
English: Wren & Martin (for Grammar), Gmat and Cat verbal reasoning books, Coaching material and mocks

Current Affairs: The Hindu and Indian Express Newspaper, Drishti Ias website (editorial section), Coaching material and mocks

Mathematics: Data Interpretation Book by K. Kundan, Coaching material and mocks

Legal Reasoning: Legal Articles on various legal websites, Coaching material and mocks

Logical Reasoning: Gmat book, Coaching material and mocks
My final words for all those who will be giving CLAT exam in future will be through hard work and persistence anyone can clear this exam with good rank if I can clear it. During the initial days of my preparation I was not good at English and reading skills which is now very important for the new CLAT pattern but I worked throughout my preparation to improve it and finally I cleared the exam with a good rank. Be confident your scores in mocks will start increasing gradually as you will proceed in your preparation journey and you will see self-improvement. So, work hard and All the best!
Also, read;
LSAT-India 2020 topper interview: "Key was to prepare regularly," says Shailja Beria
CLAT 2019 Topper Interview: "Never lie to yourself" says Saumya Singh AIR 1
CLAT 2020 Topper Interview: "Solved more than 50 mocks throughout," says Shailja Beria, AIR 6
Questions related to CLAT
Showing 7193 out of 7193 Questions