CLAT 2020 Topper Interview: "Solved more than 50 mocks throughout," says Shailja Beria, AIR 6
The CLAT 2020 result was declared on October 5. Shailja Beria, the LSAT India 2020 topper has secure AIR 6 rank in CLAT this year. The Kolkata girl has also cracked another major law entrance exam, All India Law Entrance Test of National Law University Delhi by grabbing AIR 28 rank. After cracking 3 major law entrance exams this year, Shailja says "It is really satisfying to have my hard work paying off". She has scored 110.50 marks out of 150 in CLAT 2020 and now wants to study the integrated BA LLB course from the West Bengal National University of Juridical Sciences (WB NUJS) Kolkata. On the impact of COVID-19 pandemic on her CLAT preparation, she says, The key was to prepare regularly rather than rigorously to sustain on the face of the unprecedented situation. Read the complete interview of her below.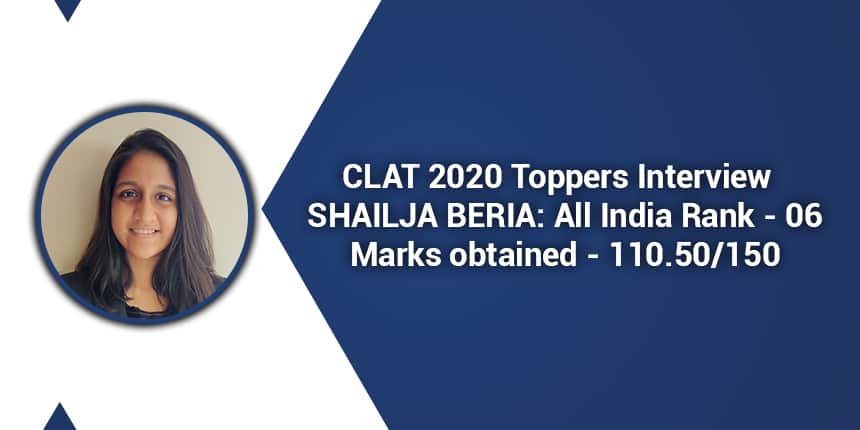 CLAT 2020 - Toppers interview
Question - Give us a brief introduction; your name, address, college, etc.
Answer - I am Shailja Beria, from Kolkata, West Bengal. I completed my schooling from Sushila Birla Girls' School.
Question - Congratulations on getting AIR 6th rank. You also secured AIR 1 rank in LSAT and AIR 28 in AILET. How does it feel like having cracked CLAT, AILET and LSAT India in such a manner?
Answer - It feels extremely satisfying to have my hard work pay off. I'm grateful to my mentor, Rajneesh sir, for his constant guidance and support.
Question - What are your NLU and course preferences through CLAT? Any particular reason for the choices?
Answer - I will opt for the B.A. LLB(Hons.) course at NUJS, Kolkata. NUJS is among India's leading law schools and it is in my hometown which gives me an added benefit.
Question - You appeared in LSAT India, AILET and CLAT. What was the easiest exam for you, and what makes these exams different from each other?
Answer - I think the easiest exam for me was LSAT India, while CLAT 2020 and AILET 2020 required prior preparation, a couple of mock tests are sufficient for LSAT. I think the current affairs section marks the major difference with LSAT not having one and CLAT and AILET having a considerable weightage for it.
Question - What was your strategy for AILET? CLAT and AILET were conducted almost together, how did you balance both the exams?
Answer - My focus was on CLAT, therefore AILET 2020 served as a sort of preparatory test before CLAT. The key was to prepare section-wise for each exam and solve previous years papers as well as mock tests.
Question - Tell us about your CLAT preparation amid COVID pandemic. How did you manage your study during the lockdown?
Answer - Due to COVID-19 it was extremely easy to lose focus and motivation. However, the constant support of my family and friends and guidance of my mentor, Rajneesh sir, helped me to keep up my preparation during this period. The key was to prepare regularly rather than rigorously so as to sustain myself through the frequent postponements in the face of the unprecedented situation.
Question - What was your preparation strategy for CLAT legal aptitude? How did the change in exam pattern affect your approach toward the various subject?
Answer - Reading legal news was a key part of my strategy for the CLAT legal aptitude section. I also took a number of mocks and section tests making sure to analyse my mistakes after each test. With the change in pattern, the major change in approach was reduced dependence on prior knowledge. Instead, I started making more effort to read the question thoroughly and draw inferences based on what was stated rather than outside knowledge of legal principles.
Question - This year, the consortium focussed on testing the candidates' reading and analytical ability. How did you develop reading and analytical abilities?
Answer - A regular newspaper reading habit helped me develop reading and analytical ability.
Question - What was your study routine for CLAT, How many hours did you study for CLAT preparation?
Answer - For CLAT, my study routine consisted of preparing mainly for the GK Section and practising other sections through mock tests and section tests. I studied six to eight hours for CLAT preparation.
Question - Tell us about your preparation strategy for Logical reasoning and maths subjects.
Answer - Practice is key for Logical Reasoning and Maths subjects. I solved a number of different types of questions so that I could be familiar with all types.
Question - How many mocks and sample papers did you solve throughout the CLAT preparation? What was your approach to solving the mocks and how many marks you used to score in mocks?
Answer - I solved more than 50 mocks and CLAT sample papers throughout the preparation. I used to start with English and allocate a specific amount of time for each section. Once I had solved most questions in each section I would go back to questions that were unattempted in the last twenty minutes. I used to score between 100 and 120 in CLAT mocks on an average.
Question - This year, the current affairs section was also paragraph based, what was your strategy for this section?
Answer - I read the newspaper daily which gave me a surface level understanding of current affairs. I also prepared notes on topics of national and international importance. Once the topics felt familiar the CLAT current affairs section became easy to attempt. Reading, re-reading and adding new points to my notes was important.
Question - Did you do self-study or relied on coaching?
Answer - I balanced self-study and coaching under Rajneesh sir's guidance who helped me hone my strengths and correct my weaknesses.
Question - Tell us about the booklist that you followed for each subject; English, Current affairs, Maths, Legal aptitude and Logical reasoning.
Answer - I used Clat Essentials and Clat Mock app for each subject. In addition, I also took tests from the Legal Edge and Career Launcher test series.
Also, read;
LSAT-India 2020 topper interview: "Key was to prepare regularly," says Shailja Beria
CLAT 2019 Topper Interview: "Never lie to yourself" says Saumya Singh AIR 1
Questions related to CLAT
Showing 7193 out of 7193 Questions