As SLAT exam aspirants embark on their preparation journey, they encounter a wide range of books for SLAT available in the market. Nonetheless, not all these resources provide the comprehensive content crucial for achieving success. Hence, candidates should exercise prudent decision-making and meticulously opt for the most fitting books that encompass all the indispensable facets essential for excelling in the examination.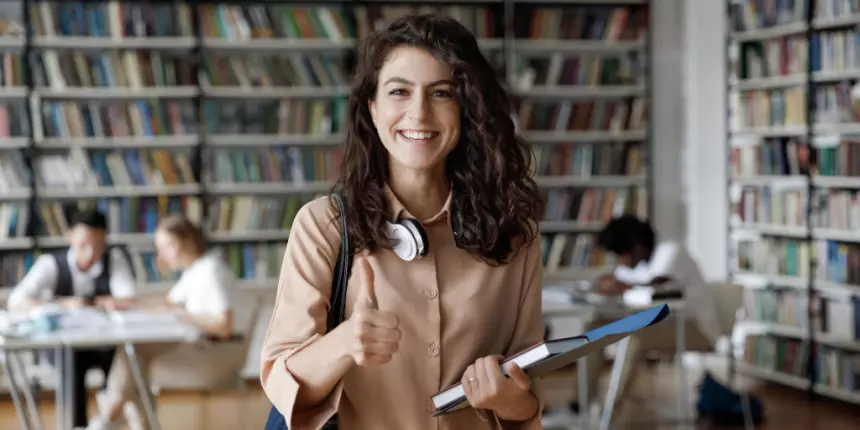 Best Books for SLAT 2024 - Subject Wise Recommended Books
Criteria to select books for SLAT 2024
Books falling within the highly recommended category for SLAT 2024 preparation showcase several pivotal attributes. Firstly, they boast accuracy, minimising the risk of candidates being misguided or wasting time on erroneous information, be it grammatical or conceptual. Secondly, these books transcend textual explanations, incorporating visual aids like examples, illustrations, graphs, and images, amplifying comprehension and retention. These visual cues render intricate concepts more accessible to aspiring candidates. Equally significant, such books are authored and published by renowned individuals or reputable publishing houses, with positive feedback from students and the academic community endorsing their credibility and utility.
Moreover, quality SLAT study materials encompass problem sets, often situated at the chapter's conclusion. These sets enable aspirants to practise and apply their acquired knowledge, refining their problem-solving skills aligned with SLAT 2024's requirements. Notably, these recommended books strictly align with the updated SLAT 2024 syllabus, ensuring comprehensive coverage of relevant topics and thorough exam preparation. Consequently, they serve as invaluable reference materials throughout the preparation process.
Also check - SLAT Syllabus
Prior to procuring any books for SLAT 2024 readiness, investing a few moments to peruse reviews is prudent. This step facilitates informed decisions, aiding in the selection of apt study materials. Another valuable tip for SLAT aspirants is to opt for books that include practice questions at each chapter's end. Such practice questions empower students to solidify their understanding and apply acquired concepts, heightening the effectiveness and focus of their preparation.
Also check - What is Arbitration in Law
Subject wise recommended books for CLAT UG 2024
Below are subject wise recommended SLAT preparation books by legal experts-
List of Recommended English Preparation Books:
Objective General English by N. Khurmi and George

English is Easy by Chetananand Singh

General English by SP Bakshi

Word Power Made Easy by Norman Lewis

30 Days to a More Powerful Vocabulary by Norman Lewis

Barron's Pocket Guide to Vocabulary

Objective General English by RS Aggarwal High School English Grammar and Composition by Wren & Martin

Objective English for Competitive Examination by Tata McGraw-Hill
General Knowledge and Current Affairs Resources:
General Knowledge by Lucent Publication

General Knowledge by Tarun Goyal

Pearsons Concise GK Manual

India Year Book

Pratiyogita Darpan

Manorama Yearbook by Manorama

General Knowledge 2023, 2022, and 2021 by Arihant Publications

Current Affairs Yearly by Arihant Publications

Competition Success Review

Newspapers for current affairs- The Hindu, Telegraph, Times of India.
Legal Reasoning Resources:
Legal Awareness and Legal Reasoning by Pearson

Legal Aptitude and Legal Reasoning by AP Bhardwaj

Objective Legal Aptitude by R.S Aggarwal

Important Judgement That Transformed India by Alex Andrews George

LST's Legal Reasoning Module
Logical reasoning Resources:
Verbal and Non-Verbal Reasoning by R.S. Aggarwal

Logical Reasoning by Arun Sharma

A New Approach to Verbal and Analytical Reasoning by Arihant

501 challenging Logical Reasoning Practice book

Quantitative Aptitude ebook (ALL Parts Solved) by RS Aggarwal

Analytical Reasoning by M. K. Pandey

Analytical and Logical Reasoning by R.S. Aggarwal

A Modern Approach to Logical Reasoning by RS Aggarwal
Quantitative Aptitude Resources:
Data interpretation by R.S Aggarwal

Quantitative Aptitude for Competitive Examinations by Pearson's

Magical Book on Quicker Maths by M Tyra

Elementary Mathematics with Numerical Ability by Prateek Jain

Fast Track Objective Arithmetic by Arihant Publications

30 days wonder for Maths by S Chand

Quantitative Aptitude by R.S Aggarwal
Also check - SLAT Previous Year Question Paper PDF Download
To effectively study books for SLAT preparation, candidates should follow these strategic steps:
Commence by thoroughly immersing yourself in the content of the SLAT study materials within the book. Grasping the structure and substance of the material is pivotal for comprehensive comprehension.

Employ highlighting techniques to accentuate key points in the SLAT exam books. This approach enhances the prominence of critical information during revision, facilitating the absorption of essential concepts.

Engage in repetitive reading of the SLAT books to fortify memory retention. Regular revisiting of the material during spare moments contributes to improved understanding and the consolidation of knowledge. For added guidance, delve into the SLAT counselling process to acquire a comprehensive grasp of its steps.

Create comprehensive notes encompassing all significant topics outlined in the SLAT books for 2024. Summarising essential concepts from the SLAT preparation books streamlines review and enables swift access to crucial information.

Participate in SLAT mock tests to evaluate the progression of your preparation. These practice tests serve as tools to pinpoint any overlooked chapters or areas requiring further attention within the SLAT exam books.
By adhering to these strategies, candidates can methodically approach their study of SLAT preparation books, heightening their prospects for success in the imminent examination.
Also check - SLAT Exam Pattern