How to prepare for DU LLB 2020
How to prepare for DU LLB 2020 - Delhi University is going to conduct its annual law entrance exam DU LLB 2020, from June 02, 2020 onwards. There are a total of 2922 seats in the three law centres of DU. And, thousands of students will prepare for DU LLB 2020 taking the competition to the next level. In such a scenario, without preparation and planning it will be very difficult to crack DU LLB 2020 exam. JIM Rohn, the famous motivator, once shared a popular warning, "By failing to prepare, you are preparing to fail" so, it is very important for law aspirants to devise a foolproof preparation plan for DU LLB 2020. Careers360 team has worked out a plan for you to take the best out of you for DU LLB 2020. Just read the article below to know more about DU LLB 2020 preparation plan, important topics, DU LLB pattern with some extra tips and tricks.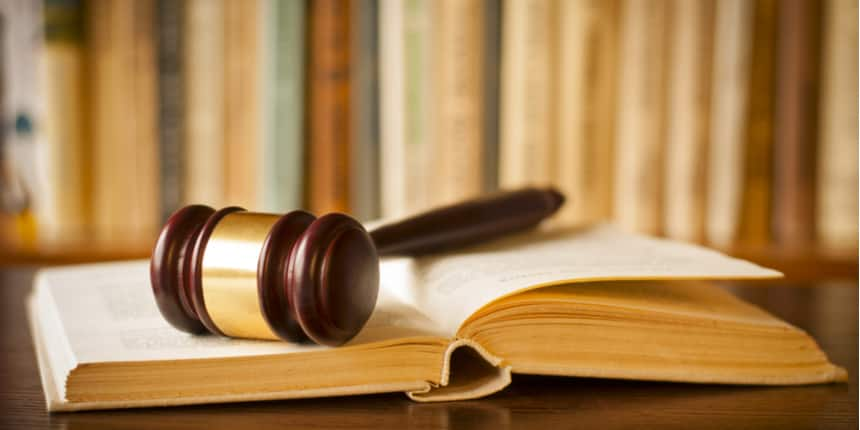 The big elephant in the room - How to take a start?
There are several ways to start one's preparation, like one may start reading any random topic, but is it a well thought out strategy for a highly competitive exam like DU LLB 2020? The answer is a big NO! Before one takes a start, it is very important to analyze a few things like:
What is the syllabus of DU LLB 2020 and how to get the maximum out of it?

What is the DU LLB exam pattern?

Subject wise preparation strategy for DU LLB 2020
Here we are analyzing all these points step by step.
DU LLB 2020 - How to tackle the syllabus?
The syllabus of DU LLB is an easily available document and a very important one. Many aspirants read it once and forget thereafter. And, that is where the problem begins. DU LLB 2020 syllabus should be the basis of your preparation and should always be with you during the course of preparation. One must check the syllabus of DU LLB 2020 at regular intervals in order to know how much syllabus is covered and what is still left to prepare. The official Information Bulletin of DU LLB has not given any detailed syllabus, rather it has relied upon the broad subjects from which questions will be asked. From the analysis of previous years' papers we can get some idea about the topic-wise syllabus of DU LLB 2020. The detailed syllabus is given below in the table.
DU LLB Syllabus 2020
| | |
| --- | --- |
| Subjects | Topics |
| English Language | Grammar, unseen passage, comprehension, fill in the blanks, jumbled words, synonyms, antonyms |
| Analytical Skills | Mathematics upto Class X, analytical and logical reasoning |
| Legal Awareness and aptitude | Legal propositions, conclusions, bare acts of Indian constitution, Indian legal framework |
| General Knowledge | Current affairs, general awareness, important events both national and international |
Analysis of DU LLB syllabus 2020
After knowing the syllabus, it should be very clear that there will be 4 sections in the exam. Every section requires different strategy. While the sections like English language and Comprehension has limited syllabus so it requires regular practice of the topics like fill in the blanks, Antonym - Synonyms, noun, verb, prepositions etc. Legal awareness, and general knowledge have relatively vast syllabus, so covering all topics is very important.
The Analytical Skills is a minor portion but still, one cannot afford to lose the marks from this section, especially when there is enough time to prepare for DU LLB 2020.
DU LLB 2020 - Know the exam pattern and marking scheme
After reading the syllabus, law aspirants must check out the exam pattern to know the number of questions that will be asked, available time for attempting DU LLB exam, etc.
| | |
| --- | --- |
| DU LLB Exam mode | Online (Computer Based Test) |
| Exam Duration | 120 minutes |
| Question paper format | Multiple choice questions (OMR test) |
| Language | English |
| Total questions | 100 |
| Marking scheme | 4 marks for each question |
| Negative marking | 1 mark will be deducted for each incorrect answer |
Subject wise preparation for DU LLB 2020
Broadly there are 4 subjects in DU LLB entrance test. Some carry more weightage in terms of marks while some don't, so it is also important to manage time accordingly. The subject wise preparation tips are mentioned below.
English -
English is one of the core areas under DU LLB entrance test and many questions are asked from this section. Generally, there will be questions from grammar, antonyms - synonyms comprehensions and unseen passages, etc. The best way to prepare is to refer any comprehensive grammar book and read any one english newspaper daily. Remember, just reading the book is not enough, to get a grip on the subject practice a lot of questions related to the above mentioned topics.
Analytical skills
This section includes maths, reasoning, aptitude etc. Law aspirants should revise basic maths of class VI, VII, VIII, IX and X. There will be questions from time, distance and speed, loss and profit, multiplications, LCM & HCF etc. Maths doesn't carry much weightage in DU LLB and also the questions will be intended to test candidates speed and accuracy in calculation. The reasoning section will include questions from blood relations, seating arrangements, direction sense, Syllogisms, coding - decoding, inequalities etc. One should prepare this section carefully, as once a candidate is accustomed to these topics, solving questions will become a lot easier. The time tested formula for reasoning and maths is practice and practice.
Legal awareness and aptitude
This is also a core subject and a very important section. There will be a lot of questions from this section only. Legal awareness will include questions from legal terminology, basic laws, constitution etc. The section will also include questions from current affairs with special reference to legal aspects.
Legal aptitude will include Principle - Fact - Decision questions and will be intended to test the reasoning and aptitude ability of candidates.
Universal DU LLB guide is considered very helpful for both legal awareness and legal aptitude sections. One may solve the entire legal aptitude section from Universal DU LLB guide to get accustomed with legal aptitude.
General knowledge -
This is a broad and inclusive section which includes questions from different domains like government schemes, political science, legal institutions, general economics, history, appointments and sports. Reading newspaper is extremely helpful in preparing for this section. Also, candidates can refer to any good current affairs book and general knowledge book for this section. Students can refer to the following books for General Knowledge.
Manorama Book

India Year Book

Pratiyogita Darpan
Newspapers - Follow any one from the list given below.
The Hindu

The Indian Express

The Telegraph

Hindustan Times
Preparation tips and tricks
There are some very common tips and tricks for DU LLB preparation. Students should follow them in order to ensure a better result in DU LLB.
Prepare a study plan that suits you best. The study plan may vary from candidate to candidate, but, what is more important is to stick with your plan and have faith in you.

DU LLB 2020 has some core subjects like English, Legal awareness, Legal aptitude and General knowledge, so, it is advised to solve all those recent entrance papers where these subjects are at the core; for eg. solving other law entrance exams like AILET, CLAT BHU UET are extremely beneficial for candidates.

Take mock tests - There are many mock tests booklets available in the market, choose any one of them and start solving the mock papers with utmost dedication. Careers360 has also collected previous years' papers to help candidate score better, so you may also look at previous year law papers. Remember, solving mock tests is a very common strategy followed by DU LLB toppers so don't ever think of skipping mock tests.
Exam day strategy -
DU LLB exam day brings an uneasy calm and nervousness to the candidate. Very often it is seen that despite all the hard work and preparation law aspirants gets choked when it comes to delivering on the day of the exam. So, better, be prepared for any unforeseen situation.
On the day of the exam, be relaxed and calm, avoid distractions. Don't read any new topic because that may add to the last minute confusion.

Feel free and attempt your exam a bit smartly, for eg. don't waste your precious time in solving those questions that are unclear to you, rather try to complete the paper first.

Avoid negative marking - Vivek Subramanian, an expert from Delhi Law Academy, believes that more often than not, negative marking brings down the scores of many talented candidates. So, avoid negative marking in any case if you are confident about your preparation. One way to avoid negative marking is solving mock tests and checking the accuracy of answered questions.
And finally, best wishes from careers360 to all DU LLB 2020 aspirants. We hope the article was useful to you.
Frequently Asked Question (FAQs) - How to prepare for DU LLB 2020
Question: Is it possible to clear DU LLB entrance test 2020 without any coaching?
Answer:
Yes. It is always possible to clear DU LLB 2020 without coaching. The DU LLB exam tests the basic knowledge of candidates in different domains. You can easily prepare without coaching, especially when a lot of coaching material and guidance is available online.
Question: How much time is sufficient for DU LLB preparation?
Answer:
It totally depends upon you. If you are already an Arts or Humanities graduate, that means you have some basic understanding of the core subjects, and hence you will likely need less time than someone who is from any other background. Generally, DU LLB entrance test takes 5 - 6 months of preparation.
Question: How many seats are available in DU LLB programme?
Answer:
Delhi University revises the number of seats every year. As of 2019, there are 2922 LLB seats up for grabs.
Question: What is the date of DU LLB 2020 exam?
Answer:
According to the conducting body, National Testing Agency, the DU LLB exam will be conducted from 2nd to 9th June 2020.
Questions related to L.L.B
Showing 15 out of 15 Questions