NLAT 2020 FAQs ( Frequently Asked Questions)
NLAT 2020 Faqs - The National Law School of India University, Bangalore has released a series of frequently asked question or NLAT 2020 faqs to address the queries of the candidates. NLSIU will conduct NLAT 2020 on September 12 in online home proctored mode. The faqs on NLAT 2020 are divided into two sections - General and Technical queries and NLAT faqs for persons with disabilities. On September 3, the university announced that it will not consider the CLAT 2020 scores for admissions and will conduct a separated National Law Aptitude Test (NLAT). Candidates who want to get admission to NLSIU Banglore will now need to apply through the NLAT admission process. Careers360 has compiled all faqs of NLAT 2020 in an attempt to bring a one-point solution to all candidate queries. Read the complete article to for more on NLAT faqs 2020 and the admission process.
Latest - To apply for NLSIU NLAT, visit - NLAT application form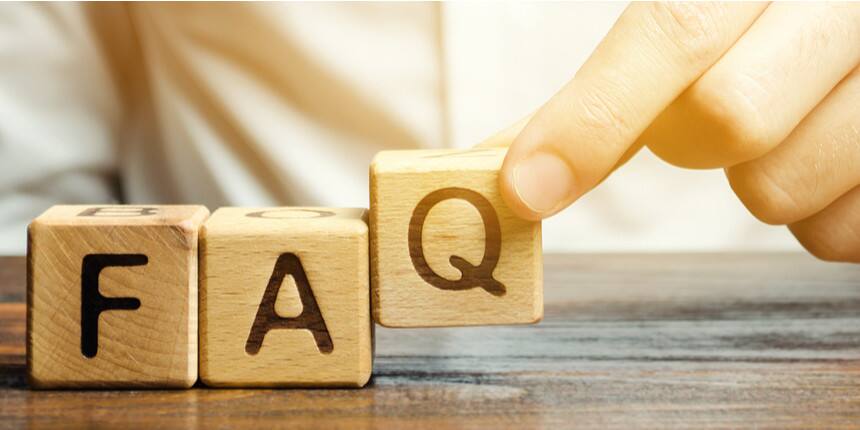 NLAT 2020 faqs - General queries
Question - I have already filled the CLAT application form, why do I need to apply for NLAT 2020 for admissions to NLSIU?
Answer - NLSIU Bangore has decided to conduct a separate admission test for BA LLB and LLM programmes. So, the university will not accept CLAT scores for admissions. The reasons given for conducting a separate entrance test include avoiding a zero year, tri semester system, CLAT Consortium not accepting the alternative admission options and uncertainty over CLAT 2020 exam date.
Question - When and how can I apply for NLAT 2020?
Answer - The application form opened on September 03, it can be filled in online mode, until September 10. You can apply for NLAT 2020 by registering at admissions.nls.ac.in.
Question - Will NLSIU accept CLAT scores this year?
Answer - No, the university will not accept CLAT score for this year.
Question - Will NLSIU accept CLAT score next year or will conduct a separate test as conducted by NLU Delhi?
Ans - The decision to hold a separate entrance test was mainly because of the COVID-19 situation and repeated postponement of CLAT. There is no clarity for the next year if the Consortium accepts NLSIU, it may be seen accepting CLAT score.
Question - I don't want to appear in CLAT as NLSIU Banglore is not there, can I ask for application fee refund?
Ans - No, the application form will not be refunded by the Consortium as 21 national law universities are also involved in CLAT admission process.
Question - I don't have a computer and internet connection, how can I appear in NLAT 2020?
Ans - There are other options too that enable you to take NLAT 2020. You can appear in the test using an android mobile device or notebook. Also, the NLAT 2020 can also be given by visiting at the TestPan centres. There are around 20 test cities where TestPan centres have been established. The Testpan will provide all infrastructure including laptops and computers for appearing in the test. The test centres facilities can be availed by paying Rs 350. Also, the test centres will be equipped with all the necessary safety requirements in view of COVID-19.
Question - How will NLSIU prevent malpractices in NLAT 2020 online exam?
Ans - The NLAT will be conducted by using a combination of AI-based and human proctoring. Some of the important measures the university has proposed to prevent malpractice include the following.
The test structure is designed in a manner which minimized the scope of candidate malpractices.

Candidates cannot revisit a question that they have already viewed and moved irrespective of the fact the answer is given or not.

The questions will be drafted by following randomisation of the sequence in which questions will be displayed to candidates.

To answer a question, google or any other help won't work. The question requires interpretative answers, so asking someone for help may not work.
Question - NLSIU says it won't publish merit list, so how does the university will maintain transparency?
Ans - The university will inform merit rank to the candidates individually. Also, a grievance redressal mechanism will be set up to address the candidate concerns related to the merit list.
Question - What is the marking scheme of NLAT 2020? Why the unanswered questions will be subject to negative marking.
Ans - As per the NLAT exam pattern 2020, each question will carry two marks. Each incorrect answer will attract a negative marking of 0.50. The unanswered questions will carry a negative marking of 0.25. The university has introduced negative marking for unanswered questions to test the in-depth preparation and shortlist the candidates who have the relevant skills and abilities.
With such a marking scheme, the university believes those who have prepared comprehensively will be able to score better than those that have not.
Question - How will the NLAT 2020 be proctored?
Ans - As per the university, the exam will be proctored by using a combination of technological, Artificial Intelligence-based proctoring, along with human proctoring.
Question - Why there are a lower number of questions in NLAT 2020 as compared to CLAT?
Ans - As per the university, a short duration examination with a lower number of questions may help in minimizing the possibility of malpractices. Also, in the home-based examination, a short duration exam may help the candidates who are worried about the infrastructural requirements such as power and internet connectivity issues.
Question - Why cannot I revisit a question once I have moved past?
Ans - The university has put such restrictions to avoid the candidate malpractices. Not allowing to revisit a question will help in preventing unauthorized collaborations.
Question - My internet speed is not good and the technical requirements ask for an internet bandwidth of 1Mbps, how can I appear in NLAT 2020?
Ans - To ensure that the NLAT 2020 remains accessible to a large number of candidates, the university is allowing the test under an internet bandwidth requirement of 512 kbps.
Question - I don't have a laptop, can I appear in NLAT using Android mobile device?
Ans - Yes, as per the technical requirements candidates can appear in NLAT using an android mobile device.
Question - Can I appear in NLAT using a Mac OS or Linux computers?
Ans - Yes, The test has been enabled in Mac OS and Linux computers.
NLAT 2020 Faqs related to PWD candidates
Question - I am from the PwD category, can I take the services of a scribe?
Ans - Yes. As per the guidelines issued to the PWD candidates with benchmark disabilities of visual impairment, locomotor disability (both arms affected), cerebral palsy can seek the services of a Scribe.
However, to avail such a service, such candidates will need to submit an appropriate medical certificate as per the pro forma provided by the university.
[PwD form and notification] - Download here
Question - Does the candidate or the scribe need to submit any additional documents for appearing in NLAT 2020?
Ans - Yes, the PWD candidates will have to submit a letter of undertaking given in the PwD form. PwD candidates can choose their own scribe.
Question - What are some of the important guidelines for choosing a scribe?
Ans - The scribe must be 10th pass. However, the maximum educational qualification of the Scribe must not exceed the candidate's qualification. Also, the scribe will have to submit a valid Government ID with picture.
Question - Will the candidates from PwD category be given some additional time to complete the test?
Ans - Yes. if the candidates are from benchmark disabilities, they will be given an additional 15 minutes to complete the NLAT 2020.
Also, read
National Law School of India University, Bangalore Updates and Articles
Questions related to National Law School of India University, Bangalore
Showing 129 out of 129 Questions