Dos and Don'ts for CLAT 2021
Dos and Don'ts for CLAT 2021 - The consortium of National Law Universities (NLUs) will conduct the CLAT 2021 exam tentatively in the 2nd week of May; the CLAT 2021 exam will be conducted in online mode. In the time that is left for CLAT preparation, the candidate must understand the dos and don't for CLAT 2021 to ace the exam. The exam pattern has been updated in the previous session, something the candidate needs to keep that in mind when preparing for CLAT paper; for example questions are now comprehension based. The article, dos and don't for CLAT 2020 deals with doing the right thing to get a good score and thus ensure a seat in one's desired NLU. Go through the complete article to know what is covered in dos and don'ts for CLAT 2021 and learn useful CLAT preparation tips.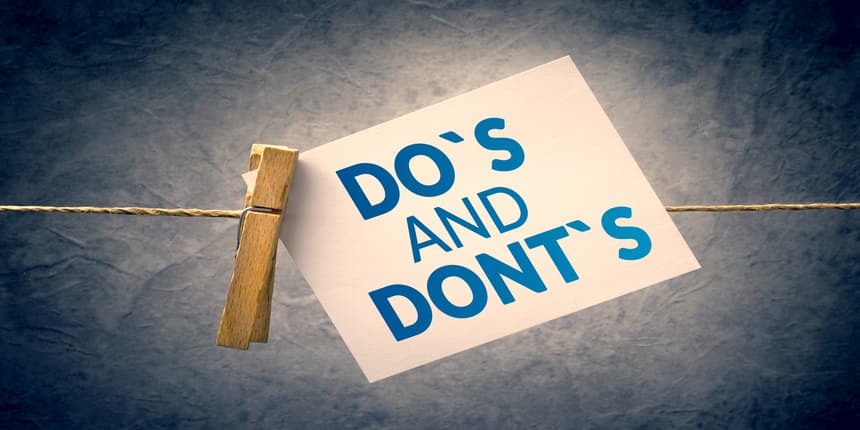 CLAT 2021 - Exam Preparation Tips to get the ball rolling
What are the new changes to the CLAT exam pattern and syllabus?
The conducting body in the last session has made some important changes to the CLAT exam pattern 2020. The candidates must be aware of the updated CLAT 2020 exam pattern, as preparing for CLAT 2021 by following an old exam pattern will surely damage your chances of clearing CLAT.
The syllabus of CLAT 2020 remains the same, but now the conducting body has clarified the sticking points. The comprehension based questions for the sections like maths, current affairs are some important points the candidate must take note of. The candidate must consult the updated CLAT syllabus 2020 because using the old CLAT syllabus may sink the candidate's chances of doing well in the national-level exam.
Dos and Don'ts for CLAT 2021
The guidelines related to CLAT exam can be divided into two parts; what you must do and what you should avoid doing. So, let's start with what you must do for an effective CLAT exam preparation.
Dos for CLAT 2020
Give Your Best Shot
The examination is only a few months away, thus, so this is the time to really dig in and focus on CLAT exam preparation. If you have read the Mahabharata, and know about Arjuna, be like him. Concentrate only on the eye of the bird, in your case, CLAT 2020! All things can wait but this time, if lost, cannot be compensated. So stay focused and give your 100%. The best way is to make a study plan for the remaining time and be consistent during the CLAT course of your preparation.
Revise Your way to Success -
You may have a lot to cover, but do not forget to revise what has been completed. A question in the examination may come from a small piece of news that you have read a few months back, but you could not attempt it because you failed to recollect that what you have read. So, revision is important.
Master the Mock to get on Top of the Real Exam -
Preparation for CLAT is incomplete without mock tests. So, CLAT 2021 mock tests are a must-do for the entrance exam. In the remaining time, mock tests are the real boosters. The comprehension based test paper of CLAT exam is expected to be a time consuming one, so solving the mock tests will make you accustomed to the new exam pattern and you can learn more about time management. Also, you can analyse the outcomes of the mock. Find out the topics that are pulling your score down in the mock.
4. Be in tip Top Shape to get the Most out of Yourself
The long study hours and hectic schedule may put serious stress on the health of the candidate, which in turn can compromise exam preparation. So, it is important to pay attention to one's health. Take note of what you are eating and drinking. It is a good idea to avoid overeating. Also drink lots of water. Further, take out some time for exercise and sports, it will keep you physically active and mentally healthy.
Let us now take a look at pre-exam Don'ts for CLAT 2021-
Do not Depend Solely on a Single Source for Mock Tests
There are many mock tests that are available online that can be attempted by the candidate before the exam. Solve question papers from various institutes, sample papers online, previous years question papers, etc. This will expose you to a variety of questions that can be asked in the examination.
Do not Join Multiple Preparation Institutes
Many students have the tendency to join multiple institutes to get exam assistance, but this not only exhausts one mentally and physically, but it will also jumble exam preparation by creating a lot of confusion. Also, running around from one place to another would leave little time for self-study. So, if you want to join an institute, be judicious about your time and what you want to achieve. Self study is a very important part of the preparation phase. Do not depend on the preparation done in the coaching institute solely.
Do not Pile up the Study with too Many Books
If you pile up the study, you will always be in two minds as to which book to read and which not to read. Also, too many books means you will always have a tough time remembering where you read a particular point /concept, so revision will be all a mess. So, rather than looking for a variety of material, if you have fewer books you can revise the topics from a single source and in the process saving time.
Be judicious with your time
It is very easy to fall into bad habits, like spending prodigious amounts of time watching the TV, especially the same news over and over again. The news channels these days repeat the same thing, covering every news in minute detail, even layering it with irrelevant stuff just to grab eyeballs. A more effective way to stay updated about key news is to watch the super-fast sections as they cover all the news in small packets. Also, watch DD News or Rajyasabha news, if you want to watch news at all. Radio is another medium where news is short and up to the point.
Don't get bogged down in new topics on the day or days leading up to the exam
Rather keep these last few days to prepare for the upcoming battle, rather than figuring out what weapons you will need or for learning new tricks to fight the battle. Use the time to solve mock tests and sample papers instead.
Dos and don'ts for CLAT 2021 - Exam day guidelines
Many times you are well equipped, but just because you don't know some exam-day guidelines, you may miss out on important marks. And if that happens, it can really jeopardize your chances of success. So, make it a point to go through these exam-day guidelines.
Make yourself comfortable by wearing clothes that don't encumber your movements. Also see to it they are too casual.

Don't overeat; it will really make you uneasy and may also hinder your thought process.

Stick to the reporting time mentioned in the CLAT 2021 admit card; you definitely don't want to be late for such an important day.

Avoid getting in group discussions with friends on exam preparation and all; it may cause depression or sometimes even overconfidence. Stay balanced.

Once the exam starts, make it a point to tackle the easy questions first.

Don't wait to complete a section before you move on to the next; again complete the easy questions first.

Considering the Tiebreaker thing, it is recommended to pay attention to the legal reasoning section.

If you have marked questions for review, attempt them before you hand in the answer sheet.

Be prepared for surprises; for example if there is an unexpected question, don't freak out. Rather be calm, read the question carefully and see if you can do it. The art is to handle such surprises well.
Questions related to CLAT
Showing 7331 out of 7331 Questions