Dos and Don'ts for CLAT 2020
Dos and Don'ts for CLAT 2020 - NLSRL Ranchi will conduct CLAT 2020 on May 10, with less than five months left for CLAT preparation, now its time to understand the dos and don't for CLAT 2020. With an updated exam pattern and syllabus, this year, CLAT paper will be different than the earlier ones. So, the article, dos and don't for CLAT 2020 deals with what new or what different can bring the best out of you and ensure a seat in one of the top National Law Universities of India. Read the complete article to know more about the dos and don'ts for CLAT 2020 and other CLAT preparation guidelines.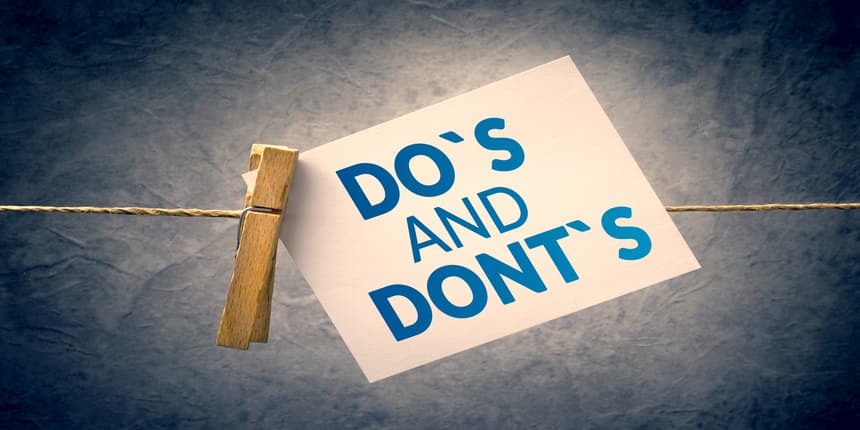 CLAT 2020 - Things you must know!
New changes to the CLAT exam pattern and the syllabus
The conducting body had indicated a complete shift in CLAT while approving the new CLAT exam pattern 2020. Candidates still unaware of the updated CLAT 2020 exam pattern must read the complete exam pattern, going for CLAT 2020 with an old exam pattern will surely damage your chances of clearing CLAT.
Though the syllabus of CLAT 2020 remains the same, but now the conducting body has made it much more clear than ever. The comprehension based questions for the sections like maths, current affairs are some of the top surprises for this year. Candidates must understand the CLAT syllabus 2020 before anything because if you are using the old CLAT syllabus, then it might turn into your biggest mistake for CLAT 2020.
Dos and Don'ts for CLAT 2020
The guidelines related to CLAT can be divided into two parts; what you must do and what you should avoid doing. So, let's start with what you must do for an effective CLAT preparation.
Dos for CLAT 2020
Give your best shot -
The examination is only a few months away, thus, this is the time you should concentrate only on the examination. If you have read Mahabharata, and know about Arjuna, be like him. Concentrate only on the eye of the bird, in your case, CLAT 2020! All things can wait but this time, if lost, cannot be compensated. So stay focused and give your 100%. The best way is to make a way is to prepare a study plan for the remaining time and be consistent during the course of your preparation.
Revision -
You may have a lot to cover a lot of syllabus, but do not forget revising what has been completed. A question in the examination may come from a small piece of news that you had read a few months back, but you could not attempt it because you failed to recollect that what you have read. So, revision is important.
Mock tests -
Preparation for CLAT is incomplete without mock tests. So, mock tests are a must-do for CLAT 2020. In the remaining time, mock tests are the real boosters. The comprehension based test paper of CLAT is expected to be a time consuming one, so solving the mock tests will make you accustomed to the new exam pattern and you can learn more about time management. Also, you can analyse the outcomes of the mock. Find out the topics that are pulling your score down in the mock.
A healthy mind lives in a healthy body.
The long study hours and a hectic schedule may turn detrimental for your health thus affecting the preparation negatively. So, it is very important to stay aware of the health status. Keep an eye on diet plans and take out some time for exercise and sports, it will keep you physically active and mentally healthy.
Let us now discuss the pre-exam don'ts for CLAT -
Do not depend solely on a single source for mock tests
Many preparation institutes organize mock tests every day for a month before the examination. Solve question papers from various institutes, sample papers online, previous years question paper, etc. This will expose you to a variety of questions that can be asked in the examination.
Do not join multiple preparation institutes
Many students have the tendency to join 2-3 preparation institutes and they end up coming home tired and exhausted, with no time or energy left for self-study. Choose the institute that fulfills your requirements. Self study is a very important part of the preparation phase. Do not depend on the preparation done in the coaching institute solely.
Do not collect too many books and study material
During the course of your preparation, try not to buy and read a variety of books; for eg, reading polity form Laxamikant and then again taking D D Basu for the same subject will not benefit you especially when you have a time crunch. Rather than looking for a variety of material, you can revise the topics from a single source and will certainly benefit you.
Do not spend hours watching the news on television
If you have a pictographic memory, and watching the news helps you retain facts better, see the super-fast section of the news channel, that too of some specific channels such as DD News or Rajyasdabha TV. A news channel repeats the same news for hours, plus the long ad breaks. This will be detrimental rather than being beneficial. Alternatively, you can listen to news on the radio, it is short and to the point.
Do not start new topics a day before the examination
Avoid starting anything new a day before the examination. This day should be reserved to prepare for the battle, not to learn how to fight! So, spend the day solving a mock and revise topics that are important. Keep everything ready for the next day, so as to avoid any delays.
Dos and Don'ts for CLAT 2020 - Exam day guidelines
Let us now see the dos and don'ts for CLAT exam day. These are small pointers which will help you perform better in the examination. We have stated them in chronological order, in the sequence of occurrence.
Wear comfortable clothes on the day of the examination.

Eat light! You don't want to feel uneasy or drowsy because of the heavy breakfast that you had.

Reach the exam centre at least an hour early.

Avoid taking part in a pre-exam discussion.

While solving the question paper, start with the section you find easiest. This will help you save time and will improve your score.

Do not hesitate to switch between sections

Be careful with the legal reasoning section. Tiebreaker

Keep an eye on the questions that you have marked for review

Be prepared for surprises. CLAT has a history of being a notorious one sometimes. So be prepared for anything that comes in the examination. The art is to handle such surprises well.
Questions related to CLAT
Showing 6928 out of 6928 Questions