NLU Placement 2020 - One of the primary concerns students have when picking a law college is its placement record. Even with the National Law Universities, though they are considered among the best law schools in the land, aspirants want details about NLU placements report. It is because they want to have some kind of assurance before they make a decision, like what kind of jobs they will get, recruiters, and payscale. Many of these students are from diverse economic backgrounds, and the first and foremost thing on their mind is to start earning from the get go so they can support their families or stand on their own two feet. In this article we bring you the top NLU placement reports explain the placement process, and how you should prepare for placement.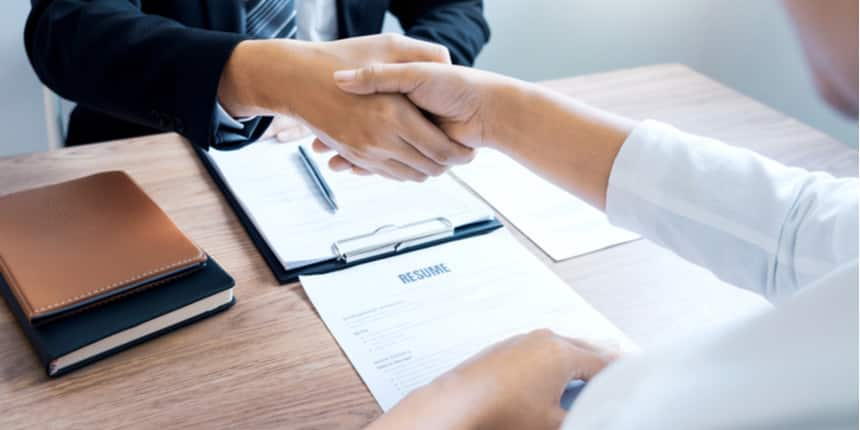 What is the NLU placement process?
The NLUs will typically have a placement and recruitment cell that will help the student in the placement process. The most important criteria the candidate needs to fulfill is they need to have good scores in their semester exams to brighten their chances of recruitment.
Two types of placements are there:
Zero day placement: The zero placement takes place in the 4th year of the LLB program and is the most important one. It is because all the big corporations and other recruiters come for zero placement. Considering the students haven't yet completed their college, it is also called pre-placement offer (PPO).

Placement in final year: Students who didn't get placed in zero day placement or didn't participate in it for whatever reasons may participate in the placement process which is conducted in the final year.
Internship matter more than placement interview itself
When we spoke to Yash Tripathi, a second year student at GNLU, Gandhinagar, he told us that most corporations recruit law graduates who have already interned for them. This means if during the internship, the student manages to prove his or her skills and shows that they can adjust to the corporate scheme of things, then they more or less are a surety during the placement process. They will also have to participate in the placement interview, but in these cases it is just a formality.
Getting ready for internships and placements
Active participation in moot courts, along with doing regular study, is recommended to make oneself ready for internships and finally NLU placements.
There are two types of moot courts:
Intra-college moot courts: At the intra-college level, the moot courts are conducted by participants from within the college. Also, judges tend to be alumni or some eligible person from that college.

Inter-college moot courts: In inter-college moot courts, students get to rub shoulders with students from other colleges. So it is more competitive, more intellectually stimulating, and demands greater skill sets.

NLU Placement 2019 (NIRF data)
Name of the NLU
No. of students
Placed
Median salary during campus placement (Lakhs)
NLSIU Bangalore
54
12
NLU Delhi
41
16
NALSAR Hyderabad
52
15
NLU Jodhpur
55
14.5
WBNUJS Kolkata
90
15.5
GNLU, Gandhinagar
91
7.2
RGNUL Patiala
51
6.5
RMLNLU Lucknow
18
4
NLU Cuttack
34
7.5
NLUJAA, Kamrup
4
6
NLU Bhopal
35
10
Top NLU Placement 2020


Top NLU recruiters and Job profiles:
Shardul Amarchand Mangaldas
Tata Projects
DLF
Alstom Group
GAIL
Deutsche Bank
ICICI Bank
KPMG
Societe Generale
Trilegal
L&L Partners
Khaitan & Co
Securities and Exchange Board of India
Telecom Regulatory Authority of India
Bharat Heavy Electricals Limited
NLU Admission Process 2020
Admission to the NLUs is done based on the merit rank of the CLAT entrance exam, which is conducted by the Consortium of NLUs. The entrance exam is conducted in pen-and-paper based mode. But please note that this year the exam has been affected by the COVID-19 situation and subsequent lockdown. So, don't be surprised if some changes are made to the exam pattern. Already exams like LSAT India have moved to online remote proctored mode from pencil-and-paper mode.
Those seeking admission to 5-year integrated course must take the CLAT UG exam

Meanwhile, admission to the one-year LLM program is through the CLAT PG exam.
CLAT-based seat intake in NLUs:
5-year LLB: 2538 seats

LLM: 742 seats
Frequently Asked Question (FAQs) - NLU Placement 2020
Question: What are the eligibility criteria to participate in NLU placement?
Answer:
There is no such specific requirement, apart from the fact that one needs a good score to improve one's chances of getting recruited.
Question: How is NLU placement conducted?
Answer:
The placement process is conducted once in the 4th year and then again in the 5th year. Candidates who are left out can participate in 5th year of placement.
Question: Are internships counted during the NLU placement process:
Answer:
Internship is probably the single important criterion for placement, as most reciters prefer to recruit students who intern for them.
Question: Do the NLUs have placement and recruitment cells?
Answer:
Yes, almost all the NLUs have a placement and recruitment cell to help candidates in the recruitment process.
Question: Which are the best NLUs in India in terms of placement?
Answer:
NLSIU Bangalore and NALSAR Hyderabad have amongst the best placement records.
Questions related to CLAT
Showing 6970 out of 6970 Questions