Top 10 Tips for Qualifying CLAT 2020
Top 10 tips for qualifying CLAT 2020 - With the law profession witnessing an up swing in its popularity and favorability, more and more numbers of aspirants are appearing in law admission tests, including CLAT, which happens to be the most popular route for admission. Now the CLAT exam attracts more than 50,000 candidates per year, but there are only around 2500 UG seats offered by the participating NLUs. Given the situation, many CLAT aspirants frequently look out for top 10 tips for qualifying CLAT 2020 to improve their chances of admission. And it is understandable, because you can't play the waiting game, hoping things will fall in place automatically. So, to help the cause of the candidate, Careers360 brings top 10 tips to qualify CLAT 2020 with flying colors.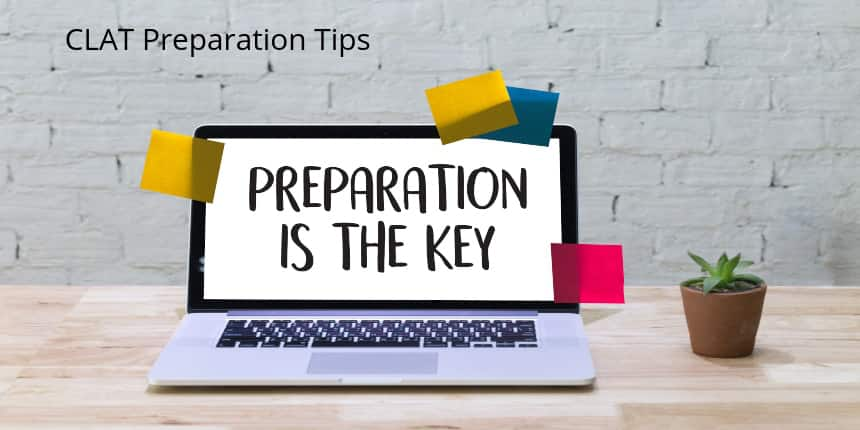 National University Of Study And Research In Law (NUSRL), Ranchi is likely to conduct CLAT 2020 tentatively in the 4th week of May. CLAT 2020 application form will commence sometime in the 2nd week of January 2020.
Top 10 tips for qualifying CLAT 2020 - Read and ace the exam!
Top 10 tips for qualifying CLAT 2020 - Be an early bird
There are many benefits of starting one's preparation for CLAT 2020 early. For one, it ensures the candidate doesn't have to rush through things, as there will be ample time to go through each topic and chapter in detail. That being said a good pace should be maintained when studying, as otherwise the time lag of preparation between chapters will be longer. Now if time lag increases, a topic may seem new even if one is dealing with it for the second time. The second advantage of starting early is if sometime goes wrong with the preparation, there would still be time left for getting it back on track and completing the syllabus on time.
Top 10 tips for qualifying CLAT 2020 - Take note of syllabus and exam pattern
Before jumping into exam preparation, one should take out some time and go through CLAT 2020 exam pattern and syllabus carefully. Doing this will help the candidate align his or her preparation to exam needs. In fact, being conversant with the exam pattern and syllabus will ensure there are no exam day surprises, like questions being asked from a topic, the candidate didn't know it existed. Also not knowing a simple thing like there is negative marking in CLAT could cost one a seat (or higher preference seat).
CLAT exam pattern 2020
Duration and mode: The exam will be conducted in offline mode and will be of 120 minutes

Question type: The UG paper will completely objective-type, but PG paper will have both objective and subjective questions

Number of questions: There will be 200 objective-type questions for UG course, whereas PG paper will include 100 objective and 2 (two) subjective questions.

Marking: Each objective-type question carries 1 mark for correct attempt, and - 0.25 mark for incorrect attempt. The two subjective questions carry 25 marks each.

Language: The test will be administered in English language.
CLAT Syllabus 2020 - BA LLB programme
| | | |
| --- | --- | --- |
| Sections | Number of Questions | Marks |
| English and comprehension | 40 | 40 |
| Elementary Mathematics (Numerical Ability) | 20 | 20 |
| General Knowledge and Current Affairs | 50 | 50 |
| Logical Reasoning | 40 | 40 |
| Legal Aptitude | 50 | 50 |
| Total | 200 | 200 |
Top 10 tips for qualifying CLAT 2020 - Put in place a realistic study plan
When making a study plan, one must consider its practicality. For example, having an 11-hour study plan may turn out to be a bridge too far, whereas a 9-hour plan may still work out. In fact, one may keep room for some flexibility. So, if you are feeling good on certain on certain days, you can go the whole hog and kick in some extra hours, but if you are not feeling motivated, better not push too hard. Instead rest, recharge the batteries. Another thing when making a study plan is to consider each topic as a unique case. It is because some topics may be easy, and might need very little time and effort, whereas some other topics may need additional attention.
Top 10 tips for qualifying CLAT 2020 - Do extensive revision
After a topic is completed, there should be enough provisions for its revision. Generally, topics that you find difficult would require frequent revisions until you start to feel comfortable. To aid in revision, one may take notes during study, as they are much easier to revise than say going through an entire block of texts (of a textbook). Marking important points in the book when studying is also a good retention strategy; you might consider using differently coloured markers.
Top 10 tips for qualifying CLAT 2020 - Have doubts? Get them cleared
During CLAT 2020 exam preparation, there will be many times when doubts relating to certain topics will creep will. Now rather than letting these doubts linger, the candidate needs to clear them with the help of his or her teachers, if it cannot be resolved by the candidate himself/herself. One important thing also is the candidate must extensively read textbooks, rather than depending on ready-made solution books. It is because these ready-reckoners are not good for concept building.
Top 10 tips for qualifying CLAT 2020 - Solve previous years' question papers
By solving previous years' question papers of CLAT, the candidate will get to know about the type of questions asked, difficulty level, and general trends. Using this information, the candidate can give an edge to their preparation. For example, the candidate can solve questions that are similar or close to those asked in previous years. In fact, the more question paper one solves, the more confidence one tends to gain. Along with these question papers, one may also try solving sample papers.
Top 10 tips for qualifying CLAT 2020 - Take online mock tests
The general trend is to take mock tests closer to the CLAT 2020, as a way to fine tune one's preparation. The thing with CLAT 2020 mock tests is they are a simulation of the real thing, so the candidate gets an exam environment that is similar to the one they would get when appearing in the CLAT 2020 exam. The candidate can use mock tests to learn time management and develop accuracy.
Top 10 tips for qualifying CLAT 2020 - Hone time management skills
The CLAT 2020 exam for undergraduate courses will include 200 objective-type questions that has to be completed in 180 minutes. This means the candidate will get less than a minute to answer a question. In the scenario, time management and accuracy are twin assets that can come in handy. To improve one's time management skills, the candidate may try solving sample or question papers of CLAT with a timer on. Meanwhile, the candidate should also take stock of where errors are happening, so that the gaps can be plugged, and accuracy improved.
Top 10 tips for qualifying CLAT 2020 - Be smart
Sometimes it is a good strategy to keep the bar lower than aiming higher and then missing missing the goal post by a distance. For example, if you feel like trying to complete the entire syllabus is messing up your whole preparation plan, leave out some topics that you have identified as troublemakers; provided they don't carry much weightage. This way you may aim at a lower score, but nevertheless you are more likely to score something near about it.
Top 10 tips for qualifying CLAT 2020 - Stay positive, healthy and don't slack
During the course of CLAT 2020 preparation, it may happen that one may run out of steam or simply feel depressed. This may happen if one gives up recreation activities, or cuts off completely from social life. So, instead of letting thoughts about the CLAT exam to consume the mind, the candidate must take timely breaks to stay rejuvenated. During downtime, play chess, go for a jog, laugh a little, or anything that lightens the mood.
Questions related to CLAT
Showing 6929 out of 6929 Questions