Top 10 Tips for Qualifying CLAT 2021
Top 10 Tips for Qualifying CLAT 2021 - Gone are the days when the study of law was considered an afterthought, as the profession has seen an upsurge in popularity in recent times. Institutes like NLSIU Bangalore and NALSAR are now on the lips of almost every teenager, many of who dream of enrolling into these stellar institutes and kickstart an adventure filled career as a lawyer. But the downside of this popularity is the process of getting into the top NLUs is only getting tougher as more number of candidates aspire for a place in these institutes; note that CLAT is the only route for admission to the 22 participating NLUs. NLU Delhi is not part of the CLAT scheme, as it conducts its own exam, the AILET. Given the difficulty, there are students who scramble around and search for top 10 tips for qualifying CLAT 2021. And to help the candidates in the bid to ace the biggest law exam in the land, we bring you the top 10 tips to qualify CLAT 2021.
Latest Updates for CLAT
23 Feb 2021:

CLAT syllabus revised; essay section dropped from PG-CLAT 2021; Read details - Click here

23 Feb 2021:

CLAT application form released, apply now!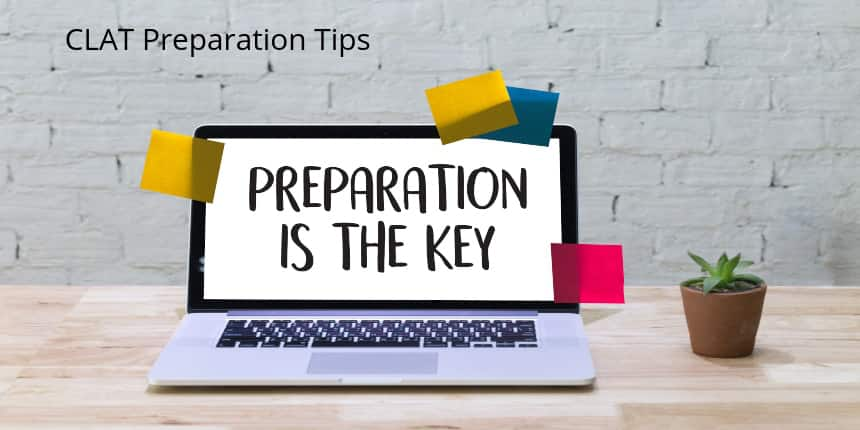 The national level exam, CLAT 2021 will be considered by the Consortium of National Law Universities (NLUs) sometime in May. The CLAT application form 2021 is expected to be in online mode around the 2nd week of June.
Top 10 tips for qualifying CLAT 2020 - Here are your mantras of success!
Top 10 tips for qualifying CLAT 2021 - Be an early bird
If you start your CLAT 2021 early, you can have one feet in the door. Take for instance with sufficient time at your disposal there is no desperation to rush through things; so you can go through each and every topic and chapter in great detail. Do however make it a point to maintain a good pace when studying, as otherwise as otherwise the early bird advantage will be lost. Also as time lag increases, there will be greater time in between revisions, which will thus make a second reading like you are reading it for the first time. Another advantage of starting early is if sometime goes wrong, you can make course corrections.
Top 10 tips for qualifying CLAT 2021 - Follow the syllabus and exam pattern
Take some time to carefully go through the CLAT 2021 exam pattern and syllabus; check if there is any change in the CLAT syllabus, like a new topic has been added or an old one dropped. This way you will be able to prepare for the updated curriculum and as per the latest pattern. Being conversant with the exam pattern and syllabus will also help avoid exam day blues, like facing an unexpected question. Also not knowing a simple thing like there is negative marking in CLAT could cost one a seat (or higher preference seat).
Top 10 tips for qualifying CLAT 2021 - Chart a well-researched study plan
One important thing when drafting the study plan is it must be realistic and not include impossible things; for example set targets that you think are achievable. When deciding study hours, check if you can handle a punishing 11-hour study schedule or you are more comfortable with a 8-9-hour study plan. In fact, keep room for some flexibility. So, if you are feeling good on a certain certain day, you can go the whole hog and kick in some extra hours. On the other hand, if you are feeling low, no point in pushing yourself. Better take some rest and get ready for the next day. Another thing when making a study plan is to consider each topic as a unique case. It is because some topics may be easy, and might need very little time and effort, whereas some other topics may need additional attention.
Top 10 tips for qualifying CLAT 2020 - Revision is key; pay heed
Revision is key to remembering or learning what you have read. Note that difficult topics would require frequent revisions before you start feeling comfortable. To make revision effective, you may start taking notes during study; notes are easier to revise and so you can revise faster. Another strategy is to mark the important points in a textbook, so that when you read the book the next time you know the troubling or important points; you might consider using differently coloured markers.
Top 10 tips for qualifying CLAT 2020 - Clear all lingering doubts
When preparing for the CLAT 2021 exam, it is natural to come across topics or questions that create doubts and confusion. Don't let these doubts linger, but rather take the help of your teacher, mentor or someone able to explain and clarify it to you. One important thing also is the aspirants must extensively read textbooks, rather than depending on ready-made solution books. It is because these ready-reckoners are not good for concept building.
Top 10 tips for qualifying CLAT 2021 - Solve previous years' question papers
If you want to know what types of questions are asked in the CLAT exam, the difficulty level, and general trends, you should solve previous year's question papers. This information will help you get the right perspective about your exam readiness. Also, the more question paper you solve, the more confidence you will get. Along with these question papers, one may also try solving sample papers.
Top 10 tips for qualifying CLAT 2021 - Take online mock tests
Typically CLAT mock tests are taken close to the exam; even the consortium will release CLAT 2021 mock tests a few weeks before the exam. These tests are considered instruments to give final touch to one's preparation. The thing with CLAT 2021 mock tests is they are a simulation of the real thing, so you get an exam-like environment. You can use the mock tests to learn time management and develop accuracy, among other things.
Top 10 tips for qualifying CLAT 2020 - Develop time management skills
The CLAT 2021 exam for undergraduate courses will include 150 objective-type questions that have to be completed in 120 minutes. This means the candidates will get less than a minute to answer a question. In the given circumstances, time management and accuracy are assets that will pay rich dividends. To improve time management skills, try solving sample or question papers of CLAT with a timer on. Meanwhile, the candidate should also take stock of where errors are happening, so that the gaps can be plugged, and accuracy improved.
Top 10 tips for qualifying CLAT 2020 - Don't be a headless chicken
Sometimes it is a good strategy to keep the bar lower than aiming higher and then missing the goal post by a distance. For example, if you feel like trying to complete the entire CLAt syllabus is messing up your whole preparation plan, leave out some topics that you have identified as troublemakers; provided they don't carry much weightage. This way you may aim at a lower score, but nevertheless you are less likely to miss scoring chances.
Top 10 tips for qualifying CLAT 2020 - Stay positive, healthy and don't slack
One ill effect of trying too hard and not paying to one's health is you may fall sick, or get depressed or simply lose interest in the task you are doing. Sometimes it may be because you have given up recreation activities or have cut off completely from social life. The trick is not to let CLAT 2021 exam preparation consume you. Rather be level headed, stay and drink healthy, smile, and have some fun. This way, you won't feel like the pressure of the world is on your shoulders.
Questions related to CLAT
Showing 7331 out of 7331 Questions